England Can Win Test Ranking Jackpot
Dubai, Jan 16: England has a chance to win $175,000 jackpot for topping the test rankings if it wins the three-test series against Pakistan starting from Tuesday.The ICC's jackpot is awarded to the side which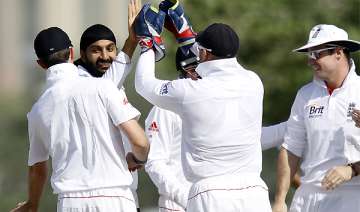 India TV News Desk
January 16, 2012 13:07 IST
Dubai, Jan 16: England has a chance to win $175,000 jackpot for topping the test rankings if it wins the three-test series against Pakistan starting from Tuesday.

The ICC's jackpot is awarded to the side which finishes on top of the rankings by the April 1 cutoff date.

England sits on top of test rankings with 125 points — seven clear of India and eight ahead of South Africa — meaning it could still claim the jackpot even if it loses the series in Pakistan by no more than a one-game margin.

India's points ranking will fall because it has lost all three tests so far in the ongoing series in Australia.

South Africa could move to maximum 119 points should it be successful against New Zealand in the three-match series in March.