England won not because of brilliant captaincy: Shane Warne
New Delhi: England have retained the Ashes by taking 3-0 lead with one test drawn and one more to be played but Alastair Cook's defensive captaincy has come under criticism, particularly from Australian players.In an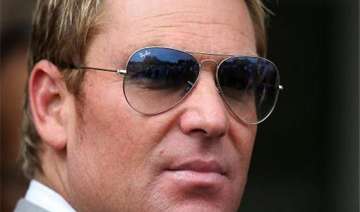 India TV Sports Desk
August 15, 2013 15:46 IST
New Delhi:
England have retained the Ashes by taking 3-0 lead with one test drawn and one more to be played but Alastair Cook's defensive captaincy has come under criticism, particularly from Australian players.
In an article in Telegraph, spin legend Shane Warne wrote that " during Manchester test it looked as if England's first aim was not to lose rather than try to win.
"Cook was way too cautious at the start of Australia's run chase.
"He had a deep point, would move slips out as soon as there was a good shot through the covers and the bowlers were bowling too short and not full and at the stumps.
" They were trying to defend with the ball and build pressure waiting for something to happen.
"Once Clarke was out Australia went from favorites to England winning inside four days."
According to Shane Warne. later on it was no longer about the captain's tactics. It was about the bowlers making it happen. "England won the Test because of some fine bowling and some poor shot selection, not because of brilliant captaincy."
On the other hand  England  coach Andy Flower praised Cook's captaincy saying "in those sorts of situations at 120 for 1, those are the instances where you need strong and decisive leadership and Cook showed that."