Former cricketer, commentator Benaud has private funeral
Syndey: A private funeral and commemoration service attended by ex-players Shane Warne and Ian Chappell was held Wednesday for former Australia cricket captain and commentator Richie Benaud.Benaud died last Friday at the age of 84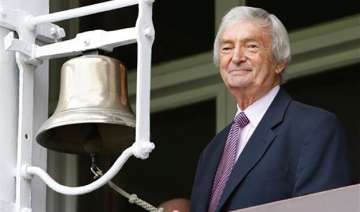 India TV News Desk
April 15, 2015 13:48 IST
Syndey: A private funeral and commemoration service attended by ex-players Shane Warne and Ian Chappell was held Wednesday for former Australia cricket captain and commentator Richie Benaud.
Benaud died last Friday at the age of 84 of complications from skin cancer. His wife, Daphne, declined a government offer for a state funeral in favor of a smaller service at the Eastern Suburbs Memorial Park attended only by family and close friends.
Benaud's former teammate, Brian Booth, led the service.
In the memorial booklet, his family described Benaud as "a special person who means so much to each of us in many different ways."
Later at a commemoration service, Warne and Chappell were joined by former Australia captain Mark Taylor and current test skipper Michael Clarke.
Benaud, considered one of the most influential cricket identities of the past century, played 63 tests for Australia but was more well-known for his career in the commentating booth.
Taylor said following Benaud's death that the celebrated television personality covered all the bases.
"I think that's what set him apart from a lot of people who came before him and probably after him, "Taylor said. "That he loved playing, he loved competing and he loved commentating and being involved in the game."
In the hours after Benaud's death, Warne took to Instagram to post a photo of an introspective Benaud, along with the words: "I've known you & Daphne for close to 30 years & to everyone you were a legend on all levels & rightly so too. As a cricketer, commentator & as a person, you were the best there's ever been."