Ganguly Fears India Has Lost Ability To Win Abroad
New Delhi, Jan 12: Former captain Sourav Ganguly fears India may have lost the ability to win overseas as the team has struggled on its current tour of Australia, dropping its sixth straight test away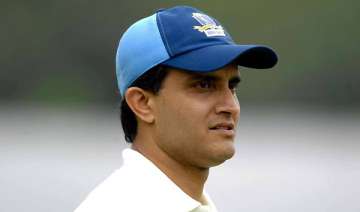 India TV News Desk
January 12, 2012 12:10 IST
New Delhi, Jan 12: Former captain Sourav Ganguly fears India may have lost the ability to win overseas as the team has struggled on its current tour of Australia, dropping its sixth straight test away from home.

"It's not the loss but the manner in which they have been outplayed that will be of concern," Ganguly wrote in his column in the newspaper Hindustan Times on Wednesday. "Indian cricket has taken a lot of pride in its performance overseas in the last 10 years, but the fear I have now is, have we taken a huge step backward?"

India trails 2-0 in its four-test series against Australia after losing the opening test in Melbourne by 122 runs and then falling by an innings and 68 runs in Sydney.

India was also beaten 4-0 in a test series in England last year, conceding the top world ranking to the opposition in the process.

The third test against Australia starts Friday in Perth. The final test will be in Adelaide from Jan. 24-28.

Ganguly, who is credited with helping India shed its reputation as a poor away team after taking over as skipper in 2000, said the recent losses were due to poor batting and bowling performances, as well as a failure to seize key moments.

"Winning cricket matches is about seizing the moment and that did not happen. Indian batting has been rated very highly for the last 10 years, but somewhere in the last few tests, they have found themselves in difficult positions," the 39-year-old Ganguly wrote.

He also said the opening pair of Virender Sehwag and Gautam Gambhir had failed to deliver in tests overseas.

Ganguly's comments follow criticism by other cricket greats over the past week.

Former India captain Sunil Gavaskar said the India team was not practicing enough on tour. "Have they gone there for sightseeing or (to) play cricket?" Gavaskar told the NDTV news channel.

"The first test ended on the fourth day and the next day was a free day," he added. "But did the Indian team practice? The attitude has to be there. You have to go out there and practice cricket."

Former Pakistan pace bowler Wasim Akram also wondered how the team could bounce back in the series.

"India are seriously looking out of sorts. There seems to be no planning in the team. Players are just looking like individuals and not gelling as a unit. This is surprising considering the fact that almost the same team were world No. 1 just a few months back," Akram was quoted as saying by broadcaster ESPN-Star.