Gul Helps Pakistan Stun England By 10 Wickets
Dubai, Jan 19: Pakistan handed top-ranked England its first test defeat in 13 months with a blowout 10-wicket victory inside three days on Thursday. Pakistan stubbornly extended its first innings in the morning to 338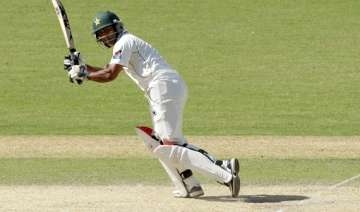 India TV News Desk
January 19, 2012 22:56 IST
Dubai, Jan 19: Pakistan handed top-ranked England its first test defeat in 13 months with a blowout 10-wicket victory inside three days on Thursday.

Pakistan stubbornly extended its first innings in the morning to 338 for a lead of 146, then began before lunch dismantling England in its second innings for 160 inside 58 overs.

Umar Gul's aggressive bowling for 4/63, coupled with some shocking shot selection by the Englishmen, left Pakistan with only 15 runs to win the opening test of the three-match series, and opener Mohammad Hafeez hit three boundaries in collecting them all.

It was top-ranked England's first defeat since losing to Australia in the Ashes test at Perth in 2010. England had won seven of nine since then.

Pakistan extended its unbeaten run in tests to eight since May, including six victories.

Offspinner Saeed Ajmal, who grabbed a career-best 7/55 in England's first innings score of 192, added three more wickets to be named man of the match. It was second career match haul of 10 wickets.

Abdur Rehman showed England why they should have included left-arm spinner Monty Panesar with 3/37, and narrowly missed a hat trick.

After Adnan Akmal's gutsy half-century stretched Pakistan's first-innings lead to 146, Gul had England on the mat by tea at 75 for 5, claiming three wickets.

Gul had reduced England to 16 for 1 at lunch when captain Andrew Strauss was adjudged caught behind off a legside delivery after TV umpire Steve Davis upheld onfield umpire Billy Bowden's decision.

Opener Alastair Cook (5) and Kevin Pietersen (0) departed from attempting shocking pull shots against Gul.

In his second spell, Gul found a thick outside edge of topscorer Jonathan Trott, who attempted an expansive cover drive to try and to reach a half century. Trott was out for 49 off 111 balls.

Ajmal undid Ian Bell for 4 with his doosra. The batsman halfheartedly called for a review but started walking back after watching the replay on the big screen at Dubai International Cricket Stadium with the ball striking his back leg in front of the stumps.

Rehman struck just before tea when Eoin Morgan on 14 got a faint edge to the wicketkeeper, and was on a hat trick when he dismissed Stuart Broad (17) and Chris Tremlett (0) off successive deliveries with England still 11 runs shy of making Pakistan bat again.

Graeme Swann (39) and James Anderson (15) ensured England did not lose by an innings with a 25—run last wicket stand before Ajmal wrapped up the innings by finding the leading edge of Swann's bat and Asad Shafiq making a low catch and roll at short cover.

Pakistan resumed overnight at 288—7 and thanks to the diminutive Akmal hitting 61 with eight fours, frustrated England for an hour and a quarter.

Akmal lost Gul for a duck when he hit Broad in only the second over of the day to Morgan at point.

Akmal gathered a precious 30 runs with Ajmal before Swann had the latter caught close to the wicket for 12.

The last—wicket stand of 19 all made by Akmal added to England's frustration as the Pakistan wicketkeeper—batsman kept the strike from No. 11 Aizaz Cheema for four overs.

Akmal played some extravagant strokes that included two reverse swept boundaries off Swann. He brought up his second test half—century with a similar stroke for two runs and pumped his fist in joy while raising his bat toward his teammates in the dressing room.

Swann finally closed Pakistan's first innings when Akmal went out of the crease but missed the line and was stumped by Prior down the legside. Swann ended with 4—107 while Broad claimed 3—84.

The second test begins at Abu Dhabi on Jan. 25, and the teams return to Dubai for the last test from Feb. 3.

England 1st innings: 192

Pakistan 2nd innings:

Mohammad Hafeez lbw b Swann 88

Taufeeq Umar b Broad 58

Azhar Ali c Prior b Broad 1

Younis Khan lbw b Trott 37

Misbah—ul—Haq lbw b Swann 52

Asad Shafiq c Prior b Anderson 16

Adnan Akmal st Prior b Swann 61

Abdur Rehman b Anderson 4

Umar Gul c Morgan b Broad 0

Saeed Ajmal c Cook b Swann 12

Aizaz Cheema not out 0

Extras- (2b, 5lb, 2nb) 9

TOTAL- (all out) 338

Overs- 119.5.

Fall of wickets- 1—114, 2—128, 3—176, 4—202, 5—231, 6—283, 7—288, 8—289, 9—319.

Bowling- James Anderson 30—7—71—2, Chris Tremlett 21—6—53—0 (1nb), Stuart Broad 31—8—84—3 (1nb), Graeme Swann 29.5—3—107—4, Jonathan Trott 8—2—16—1.

England 2nd innings:

Andrew Strauss c Akmal b Gul 6

Alastair Cook c Akmal b Gul 5

Jonathan Trott c Akmal b Gul 49

Kevin Pietersen c Rehman b Gul 0

Ian Bell lbw b Ajmal 4

Eoin Morgan c Akmal b Rehman 14

Matt Prior lbw b Ajmal 4

Stuart Broad c Shafiq b Rehman 17

Graeme Swann c Shafiq b Ajmal 39

Chris Tremlett c Hafeez b Rehman 0

James Anderson not out 15

Extras- (4b, 1lb, 2nb) 7

TOTAL- (all out) 160

Overs- 57.5.

Fall of wickets- 1—6, 2—25, 3—25, 4—35, 5—75, 6—87, 7—87, 8—135, 9—135.

Bowling- Umar Gul 19—5—63—4 (2nb), Aizaz Cheema 7.2—1—9—0, Mohammad Hafeez 2—0—4—0, Saeed Ajmal 17.3—4—42—3, Abdur Rehman 12—2—37—3.

Pakistan 2nd innings:

Mohammad Hafeez not out 15

Taufeeq Umar not out 0

Extras- 0

TOTAL- (for 0 wicket) 15

Overs- 3.4.

Bowling- James Anderson 2—1—7—0, Stuart Broad 1.4—1—8—0.

Did not bat- Azhar Ali, Younis Khan, Misbah—ul—Haq, Asad Shafiq, Adnan Akmal, Abdur Rehman, Umar Gul, Saeed Ajmal, Aizaz Cheema

Toss- won by England.

Result- Pakistan won by 10 wickets.

Umpires- Billy Bowden, New Zealand, and Bruce Oxenford, Australia.

TV Umpire- Steve Davis, Australia. Match Referee- Javagal Srinath, India.