I Am The Main Culprit : Dhoni
Perth, Jan 15: Indian captain Mahendra Singh Dhoni today took the blame on himself for a disastrous performance of his team against Australia, saying that he was the main culprit as the captain."I need to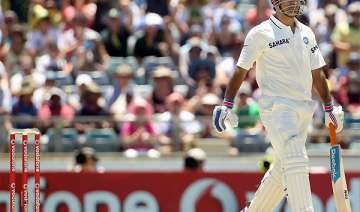 PTI
January 15, 2012 14:45 IST
Perth, Jan 15: Indian captain Mahendra Singh Dhoni today took the blame on himself for a disastrous performance of his team against Australia, saying that he was the main culprit as the captain.

"I need to blame myself as I am the leader of this side.  Of course, I am the main culprit, so of course I blame myself," Dhoni said at the post-match press conference here.

Dhoni also defended the seniors batsmen who have come under sharp criticism for consistently failing in Australia as well as preceding series in England.

Asked whether the seniors should be phased out, Dhoni said that should come up only after the end of the series.

"We will have to see what is the thought of the seniors. It has to be a very careful decision that needs to be taken. They have the experience and they can share it with the youngsters," he said.

The 30-year-old skipper said the main reason behind India's flop-show has been there failure to score enough runs consistently.

"I can only talk about the game so far and if you see the games that we had played in England, the Test natches here, it is only the one reason—we have not put enough runs on the board, something that we need to be careful about because we want to give the bowlers that amount of runs to get the opposition out," he said.

"One or two bad innings, it can happen in Test cricket, but overall, the seven test matches, this is a bit too long for the batting line up to flop," Dhoni added.

Dhoni said it was one of the worst phase for Indian cricket and blamed the batsmen for failing them.

"The amount of cricket that I have seen, this is definitely one of the worst phase where we have not done consistently well. We have not put runs on the board. Bowling, I think because of injuries, we suffered a set back, over here, we have not been as consistent," he said.

"Overall, I don't think bowling is a real worry, we have not been consistently batting well, our line-up flopping consistently."
Asked about the calls by former players for axing of some senior cricketers after the debacle in Australia, Dhoni said that such a decision would have to be taken with the players sitting together with the BCCI.

"As for dropping the legends of the game, it would be a process, not an event. I have not sat and thought over it.  Everybody needs to be a part of it, players and BCCI at the same time. It's about taking right decisions. People went after Virat to be dropped and he batted really well in this Test," Dhoni said.

"May be at the end of the series (on discussing the future of seniors). It's also about what seniors are feeling.  It seems there is a lot of stress on how to get rid of the seniors. As I said, it would be a very careful decision given what they have done for the country and given the experience they have which they can share with youngsters," he said.

He, however, was not in favour of phasing out all the senior players, saying that the team needs them for the youngsters to learn the ropes.

"You can't have all the seniors missing out at the same time. We have to be careful. You want to give exposure to youngsters but you also want a good mix of seniors," said the skipper.

"The experience these guys have, once they share this experience with youngsters, the job of youngsters become easy.  You don't need to play 100 games to be experienced. If you share whatever questions you have with these experienced players, the job of youngsters become easy.

"If you see all the three players we have got, if they don't score a 100 or 50, we feel they haven't score runs. If you see last couple of series, they haven't done well but it's to their averages and amount of runs they have scored they have not done well. They must be feeling the pressure but it's very common to them. Throughout their career they have faced that kind of pressure," said Dhoni.