India-Pak Series Next Year At Neutral Venue, Says PCB Chief
Pakistan Cricket Board Chairman Ijaz Butt on Wednesday expressed optimism over a series against arch-rivals India at a neutral venue in 2010. Butt said, the International Cricket Council (ICC) has shown interest in resumption of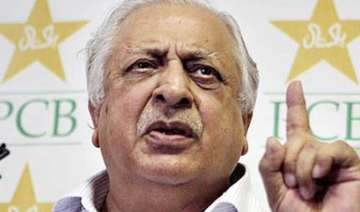 PTI
November 05, 2009 9:49 IST
Pakistan Cricket Board Chairman Ijaz Butt on Wednesday expressed optimism over a series against arch-rivals India at a neutral venue in 2010.
Butt said, the International Cricket Council (ICC) has shown interest in resumption of the high-profile contests in the US, Geo news reported.
"Insha Allah a series between Pakistan and India will be held at a neutral venue next year as my meetings with the Indian cricket officials as well as government officials will bring good results,' Ijaz said while talking to reporters after reaching Lahore from New Delhi following an eight-day visit to India.
"The United States is a good place [for the series]. But since there is just one stadium in Florida where only one One-day International or two Twenty20 matches could be held, it is not suitable for a high-profile series," he stated.
Ijaz further said that the ICC was also interested in resumption of competitions between India and Pakistan  in the US to promote the game in that region.
The PCB chief said,  during his visit he also asked BCCI to invite Pakistani players for the next edition of the Indian Premier League (IPL).
No Pakistani player featured in this year's IPL event due to strained political ties between the two countries after the Mumbai attack last November.
Though the BCCI had invited many Pakistani cricketers for IPL's first edition held in 2008, for the second they refused to include any player from across the border after the government of Pakistan decided not to allow any player to visit India due to the tense situation arising out of the Mumbai incident.
BCCI has linked the revival of cricket ties between the two countries with the permission of their government.
An Indian board official had said soon after Ijaz met his Indian counterpart, Shashank Manohar, in Mohali this week that resumption of bilateral matches with Pakistan was not possible in the near future, adding it would consider this matter late next year.
Manohar had told Ijaz that even after the government's clearance, the schedule for the series (with Pakistan) could not be finalised before the next seven months or so as the Indian team would be too busy in other international assignments during that period.
Shashi Tharoor, India's Minister of State for External Affairs, had floated the idea for a bilateral series with Pakistan in the US, a notion the BCCI termed as premature.
The PCB wants its national team to play against India to improve its financial state, since it could earn 65 per cent of the media rights through a series against India.
By holding the home series at neutral venues against Australia and New Zealand due to security issues in Pakistan, the PCB could not earn enough profits to meet its expenditure.
The PCB chief said the next Asia Cup could be held either in China, Malaysia or Sri Lanka as all three countries were interested in hosting the event.