India slip to 7th in Test rankings; No player in Top-10
Dubai: Indian cricket team may have had decent run in the World Cup reaching semi-final but there is no such good news as far as the longer version is concerned where Virat Kohli's men are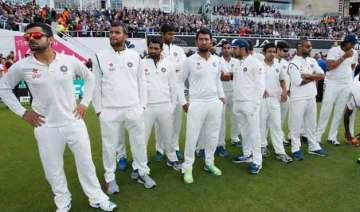 PTI
April 11, 2015 19:53 IST
Dubai: Indian cricket team may have had decent run in the World Cup reaching semi-final but there is no such good news as far as the longer version is concerned where Virat Kohli's men are currently languishing at 7th place in the 10-team table.
As per the latest Test ranking charts released by the ICC, India are placed seventh with 93 points -- a notch below Sri Lanka, who are now in sixth place with 96 points. New Zealand are in fifth place with 99 points while South Africa lead the table with 124 points.
World Cup champions Australia are second with 119 points while England and Pakistan are going neck and neck at 104 and 103 points respectively.
Similarly, after India's 0-2 loss against Australia in the four Test series, no Indian batsman has found place in the Top-10 Test rankings despite skipper Virat Kohli's four centuries in the series.
In fact, there aren't any bowlers also in the Top-10 while Ravichandran Ashwin is the only saving grace with his thid rank in the all-rounder's list after Shakib Al Hasan and Vernon Philander.
ICC Test Team Rankings (as on 10 April)
1 South Africa 124
2 Australia 119
3 England 104
4 Pakistan 103
5 New Zealand 99
6 Sri Lanka 96
7 India 93
8 West Indies 76
9 Bangladesh 32
10 Zimbabwe 18.