India suggested for World Cup - winning contests is a habit so is losing!
New Delhi: Having been beaten comprehensively by Australia in the Test series, Team India hoped to gear up for the World Cup when Tri Series, involving Australia and England, began but India got off to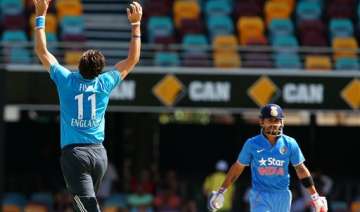 India TV News Desk
January 21, 2015 10:51 IST
New Delhi: Having been beaten comprehensively by Australia in the Test series, Team India hoped to gear up for the World Cup when Tri Series, involving Australia and England, began but India got off to bad possible start losing their first two encounters to Australia and England respectively.
Team India, the giant of Asian sub continent, are expected to do well as far as ODI's are concerned but the way presently they are playing in the Tri series, fans from this subcontinent will be wondering if they would get to see their heroes making it into the last four and eventually defending the title.  
Team India embarked on Australia tour after beating West Indies and Sri Lanka with ease at home conditions. One can argue they were playing on their favorite pitches but than they also defeated England 4-1 in England in the ODI series prior to these two series.
So what's going wrong with them?
Is the test defeat still playing on their minds? Or as usual they are being found wanting against the fast bowling?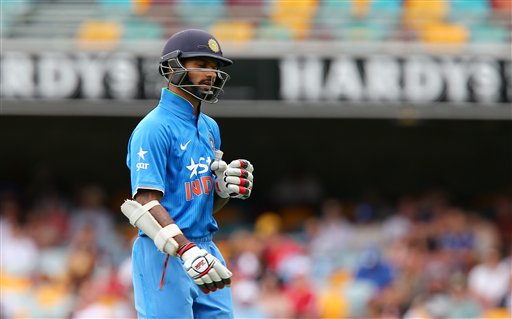 The answer probably is yes. Opener Shikhar Dhawan seems to have no clue where his off stump is and continuously giving slip fielders catching practice. This is a high time when Team think tank should sit down and  try out some other opener in place of Dhawan who now seems becoming a burden.   
Much is dependent on openers in ODI's as a good start always gives a free hand to middle order batsmen to display the kind of batting they are known for.
"If a ball is there to hit, you should, but if it needs to be defended, you should watch out. By the time you need to accelerate, there aren't any wickets left,"  said Dhoni after losing to England.

Failure of openers in the first two two ODI's I the Tri series cost India games and restricted the later batsmen to play their natural game.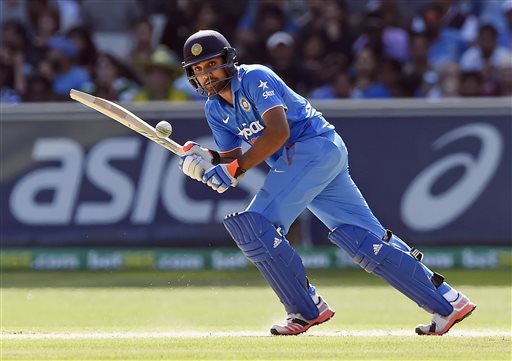 In the first game Rohit Sharma, who opened with Dhawan, transformed himself from a reluctant test batsman to a batsman who just loves to dictates his terms in a shorter format of the game. The style with which he hit a ton is a warning to the bowlers that they need to work out on him if they want to be spared from his wrath.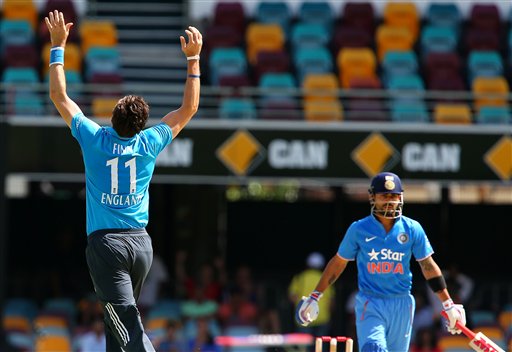 Virat Kohli, who showed bouncy and fast tracks hardly bother him during the test series, is being troubled by the out going deliveries. He should and he must sort it out before the World Cup if team India has to do well as he is the most precious batsman India have at the moment.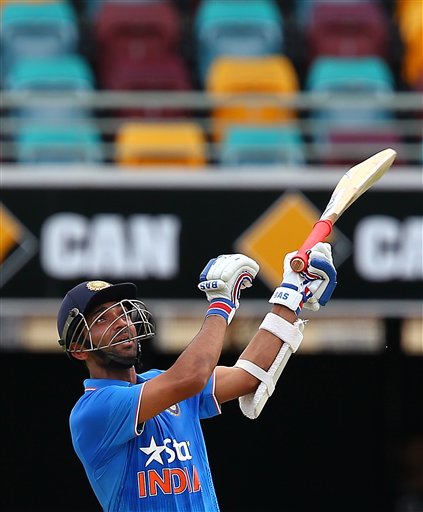 Ajinkya Rahane is a kind of batsman who loves to stay at the crease and  but again cheap dismissal of the openers puts pressure on him and in order to put runs on the board he throws away his wicket as is evident in the first two ODI's.
Failed in the only test played Suresh Raina teamed up with Rohit to steer India out of trouble. He made a fine fifty but failed to repeat it in the second ODI against England. He needs to curb his tendency to take the slow bowlers for granted.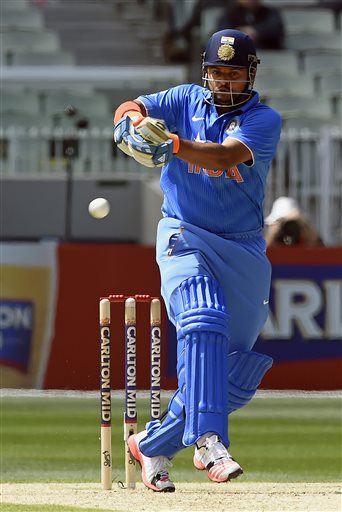 Captain Dhoni who led Team India to victory in the last World Cup, has yet to find his midas touch.
Bowling too is a big concern for Team India and Dhoni too did not hide it when he said after losing the first ODI that "our bowlers bowled badly with the new."       
Bbuvneshwar Kumar, Umesh Yadav and Mohammad Shami failed to provide the breakthrough in the first ODI against Australia which went on to chase India's total of 267 without much difficulties.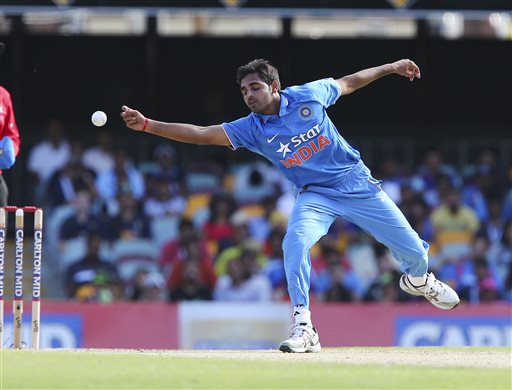 Won't Team India be better off playing an all-rounder who can bowl and bat a bit instead a bowler who concedes runs and just goes out and comes back before the previous batsman has unpadded himself?
Team India can not blame the "alien conditions" because they have been there for now almost two months and by now must have the sensed the conditions the World Cup would be played under.
The most dangerous thing for Team India is if winning contests is a habit so is the losing.