Indian, Aussie Cricketers Battle It Out With Words
Perth, Jan 10: A war of words today broke out between Indian and Australian cricketers ahead of the crucial third Test here with senior players of both sides taking digs at each other after Brad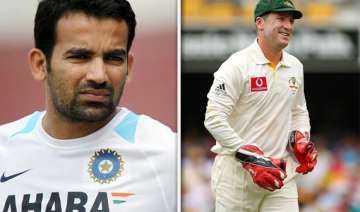 PTI
January 11, 2012 7:14 IST
Perth, Jan 10: A war of words today broke out between Indian and Australian cricketers ahead of the crucial third Test here with senior players of both sides taking digs at each other after Brad Haddin started the jibes by calling India a "fragile" team.

Haddin had yesterday fired the first salvo stating that the struggling Indians tend to "break quicker than anyone in the world" when things don't go their way.  It got an angry response from Indian pace spearhead Zaheer Khan, who asked Haddin to focus on his own "fragile" wicket-keeping skills.

"Haddin needs to worry about his keeping. It appears really fragile to me and he needs to start moving," he said.

Equally sharp was the reaction of Australian pacer Peter Siddle, who felt the Indian left-arm paceman had got it all wrong.

"Zaheer saying he (Haddin) has got to concentrate on his keeping, I wouldn't like to see how good his (Zaheer) tips are on keeping.
"I don't think it's his place to say that either...  Obviously Zaheer is going alright at the moment and he likes to say those things," he told reporters.

Zaheer said Haddin's comments were aimed at playing mind games with the tourists, who trail the Test series 0-2. The third Test of the series starts here Friday.

"He's doing all the talking. He's definitely playing his role."

Haddin had stated that, "We know this side can be as fragile as any team in the world if things aren't going their way and they can turn on each other and the media turns on them pretty quick," he was quoted by the media here.

"We knew if we could keep them out there and put the numbers like we did on the board we knew we'd get the rewards because they break quicker than anyone in the world."

Meanwhile, Zaheer also took a swipe at former Australian captain Ricky Ponting, saying although he scored a century in the second Test in Sydney, he didn't look the batsman he used to be.

"All I can say is that he (Ponting) applied himself well.  But the Ricky Ponting of old...the flair is different now. He was more of a grinder and it wasn't his natural game. But a hundred is a hundred and all credit to him."