India's World Cup preparations take a hit in tri-series
Sydney: It was meant to be a dress rehearsal for the ODI World Cup next month but the Indian cricket team has been left grappling with selection issues in the ongoing tri-series against Australia and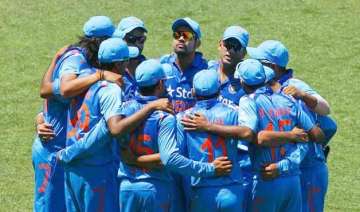 PTI
January 22, 2015 18:50 IST
Sydney: It was meant to be a dress rehearsal for the ODI World Cup next month but the Indian cricket team has been left grappling with selection issues in the ongoing tri-series against Australia and England, failing to find the combination that would be good enough for the marquee event.
With two defeats in two matches against Australia and England respectively, there can be no doubt that India's World Cup preparation has gone awry.
 
This tri-series was meant to be a dress rehearsal for their title defence over the next two months, but there is a good chance now that India might not even make it to the tri-series final in Perth on February 1.
Ever since the two new balls rule came into effect, skipper Mahendra Singh Dhoni has shied away from playing seven batsmen in the eleven. The onus has been to rely on five full-time bowlers and his dependency on the part-timers has waned.
Slowly, but steadily, India have become a side that always plays six front-line batsmen in ODIs, irrespective of conditions.
It has put focus on Dhoni's finishing abilities at number six and heaped pressure on Suresh Raina's role at number five. To hedge their bets in the middle order, make the batting line-up seem stronger, now Virat Kohli bats at number four and not number three, a position where he has scored 14 of his 21 ODI hundreds.
The top-order responsibilities are given to Shikhar Dhawan, Rohit Sharma and Ajinkya Rahane, with only one out of three showing any semblance of form so far.
Ravindra Jadeja's absence has hurt India a lot. Over the last couple years the team management has groomed him to take up the number seven role.
With R Ashwin and Bhuvneshwar Kumar to follow, the lower order is able to contribute quite a bit. But the Saurashtra all-rounder is only making his way back to full fitness and as such the young Axar Patel has been tried out in his place.
"We all know that Ashwin and Kumar can definitely bat, but they will not clear big grounds easily. Once I go in to bat at number six, I have to balance between hitting out and not getting out, and it is a difficult thing to do," Dhoni has stated.
"So we have to wait for Jadeja to return because he can do that hitting role at number seven. In the meantime, Axar we all know can bat, and he needs to use these opportunities. Tomorrow he can be groomed into the Jadeja role too," said Dhoni after the Melbourne ODI.