Involvement with IPL would be on anti-corruption side: ICC CEO
Mirpur: The ICC Chief Executive Dave Richardson today said that the parent body's involvement with the Indian Premier League's matches in Dubai will be limited to strictly providing support on the anti-corruption front as negotiations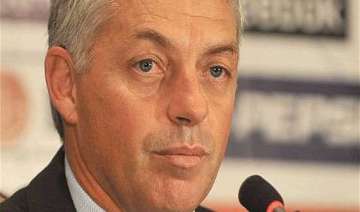 PTI
March 21, 2014 16:17 IST
Mirpur:
The ICC Chief Executive Dave Richardson today said that the parent body's involvement with the Indian Premier League's matches in Dubai will be limited to strictly providing support on the anti-corruption front as negotiations are on with BCCI in this regard.     
"Our office is in Dubai, so we have certain facilities which we will make available to the BCCI if they need them. Essentially though, our involvement would be on the anti-corruption side.     
"As we speak, I think the contract between the BCCI and the ICC ACSU is under negotiation. So it is a little bit premature to say if our services are actually going to be used but that's probably very likely," Richardson said during a media interaction here today.     
Asked if BCCI pays for ICC's ACSU unit maintenance, Richardson said, "Yes, they contribute to the costs."     
About his statement in the ICC media release, Richardson said that it was primarily because the tournament will be a big boost for the region.     
"I think the IPL coming to the UAE will do wonders for cricket in the region, in particular in Dubai. And the other point, we wanted to make from the media release was that rightly or wrongly, the region sometimes gets accused of having integrity issues.     
"And we wanted to assure everybody that in that respect certainly, we are keeping a very close eye on the tournament and making sure that it remains above board."     
Richardson also gave an elaborate explanation on how ICC is working to improve its Anti-Corruption surveillance process.     
"I think the ICC Anti-Corruption unit has changed considerably over the last few years. Initially, it focused on education and prevention and now it has become much more pro-active on the investigation side. We are in the process of really reviewing the resources of not only ACSU in Dubai but also the resources of other member units."