IPL 8: KKR will do well even in my absence, says Shakib Al Hasan
Kolkata: Bangladesh all-rounder Shakib Al Hasan will miss bulk of the IPL-8 edition due to a home series against Pakistan but expressed confidence that Kolkata Knight Riders have enough depth in their side to do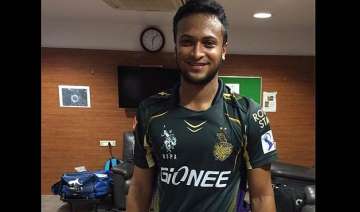 PTI
April 06, 2015 12:00 IST
Kolkata: Bangladesh all-rounder Shakib Al Hasan will miss bulk of the IPL-8 edition due to a home series against Pakistan but expressed confidence that Kolkata Knight Riders have enough depth in their side to do well in the upcoming edition of the cash-rich league.
"I don't think my absence will be a problem. Our bench strength is very strong. We have got depth in our side. It's such a long tournament, anyone can get injured anytime but we have our back-up ready. All in all, we are a balanced side," Shakib told reporters, here today.
The left-arm spinner will play first two matches and return home for a full series against Pakistan beginning with three ODIs in mid-April.
"I will also possibly play the last two league matches. Of course, my target would be to contribute like last season."
Terming their team's bowling attack as 'spin-oriented' which exploits the conditions at Eden Gardens, Shakib said their target would be to win all the home matches so that it becomes easier to qualify for the play offs.
"We get a bit of help for spinners in our home ground. So if you win all your home matches, it becomes easier to qualify. If we start well, obviously it becomes easier towards the last stage. But (our two leading pacers) Morne Morkel and Umesh Yadav have done very well in the World Cup. They will also play a vital role."
Besides him and Sunil Narine, who got a clean chit from BCCI being cleared of suspect action, the KKR have the likes of chinaman bowler Brad Hogg, off-spinner Johan Botha and the unknown Indian entity KC Cariappa and chinaman bowler Kuldeep Yadav.
"It's a healthy competition (among the spinners). It's good for the team that everybody does their best to deliver on the field."
Shakib further said rookie spinner Cariappa is a bit like Sunil Narine.
"He is a young talent. He will learn a lot by being with the team. Hopefully, he will do well when he gets his chance," said world's No 1 all-rounder in ICC rankings.
Narine is important in our scheme of things: Shakib Al Hasan
Kolkata Knight Riders allrounder Shakib Al Hasan today said the BCCI's clean chit to Sunil Narine's bowling action was a big relief for the reigning champions ahead of IPL-8 cricket tournament.
Mystery spinner Narine was cleared to play for Kolkata Knight Riders after the BCCI's review committee dealing with suspect action gave the West Indian a clean chit.
"Of course, a big news for us. He has always played a big role for the team. He's very important in our scheme of things. We came to know this maybe last night or this morning," the Bangladeshi allrounder told reporters here.
Having got the clearance from the Board which communicated the development through a statement, Narine, who skipped the first two days practice sessions, finally turned up for practice at the Eden Gardens this evening.
The KKR 'trump card' got the biggest applause from fans who screamed 'Narine, Narine' as he stepped out of the team bus.
But a thunderstorm just before they checked into the ground denied Narine a chance to bowl at the nets with the corrected action.
The team members later used the indoor facility of the Cricket Association of Bengal as most of the areas were soggy and under water.
Fresh from his memorable show at the World Cup in Australia-New Zealand, Indian pacer Umesh Yadav joined the Knight Riders camp.
Kolkata Knight Riders kick start the tournament by taking on Mumbai Indians here on Wednesday.