IPL 8 overshadows World Cup 2015 on Google Search
New Delhi: The eighth edition of the cash-rich Indian Premier League (IPL) is just 10 days old and it has already surpassed World Cup 2015 in Google's search trends.A search trends analysis by Google reflects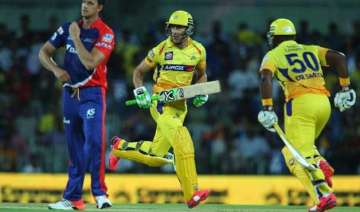 India TV Sports Desk
April 17, 2015 13:24 IST
New Delhi: The eighth edition of the cash-rich Indian Premier League (IPL) is just 10 days old and it has already surpassed World Cup 2015 in Google's search trends.
A search trends analysis by Google reflects the craze and enthusiasm for the IPL and cricket fans around the world show a significant surge of interest in the highly celebrated and much awaited annual cricket carnival in India.
The domestic tournament has now over-shadowed search interest (search peaks) witnessed around the just concluded ICC Cricket World Cup 2015. 
Going by the search trends released by Google for the past couple of years, Indian Premier League (IPL) which debuted in 2008 has seen a constant surge in search interest for the first six editions although it did witness a fall in interest during the last season.
IPL 8: CSK are most searched
The most consistent team in the IPL history and the most favorites MS Dhoni led Chennai Super Kings (CSK) emerged as the most searched team in IPL this season on Google search. Kolkata Knight Riders and Mumbai Indians rank second and third respectively while Kings XI Punjab appears in the fourth spot. 
Delhi Daredevils, Rajasthan Royals, Royal Challengers Bangalore and Sunrisers Hyderabad take the lower ranks even as Rajasthan Royals currently tops the tournament's points table based on match results.
IPL 8: Top Trending Match 
Fans across the country enjoyed a thrilling encounter between Chennai Super Kings and Delhi Daredevils at the Chinnaswamy Stadium in Chennai. The match emerged as one of the highest searched matches in this this year's tournament. Delhi Daredevils lost against Chennai Super Kings by a run in this closely fought battle.
It was also the 10th consecutive loss in a row for DD in IPL which started in 2014.
IPL 8: Top Searches by Region 
A large chunk of search queries on this season's IPL have been from cricket fans from West Bengal followed by Pondicherry, Karnataka and Tamil Nadu. Last year (2014), it was Andhra Pradesh followed by Tamil Nadu that led with the highest number of search queries.