IPL 8: Rajasthan Royals vs Kings XI Punjab scoreboard, Match 3
Pune: Scoreboard of Rajasthan Royals vs Kings XI Punjab, Match 3 of Indian Premier League 2015 played at MCA stadium here Friday.Chasing 163 runs to win, Punjab's reply never really got going and they only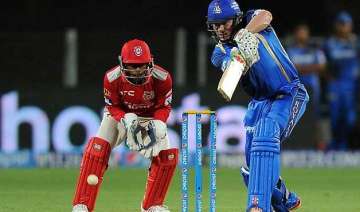 India TV News Desk
April 11, 2015 16:16 IST
Pune: Scoreboard of Rajasthan Royals vs Kings XI Punjab, Match 3 of Indian Premier League 2015 played at MCA stadium here Friday.
Chasing 163 runs to win, Punjab's reply never really got going and they only managed to reach 136/8 in their 20 overs.
Australia's World Cup hero James Faulkner was Royals' star man was well with his innings-pacing knock of 46 runs and then taking 3/26 with the ball.
Rajasthan Royals innings: 162/7 in 20 overs
| | | |
| --- | --- | --- |
|  Ajinkya Rahane |  c Patel b Anureet Singh |  0 |
|  Sanju Samson |  lbw b Sandeep Sharma |  5 |
|  Steven Smith |  c Karanveer Singh b Johnson |  33 |
|  Karun Nair |  b Patel |  8 |
|  Stuart Binny |  c Saha b Johnson |  13 |
|  Deepak Hooda |  b Anureet Singh |  30 |
|  James Faulkner |  c Miller b Anureet Singh |  46 |
|  Chris Morris |  not out |  6 |
|  Tim Southee |  not out |  0 |
|  Extras     |  (lb 9, w 12) |  21 |
|  Total |  7 wickets |  162 |
|  Overs |  innings break |  20 |
|  Fall of wickets                           | 1-5 (Rahane, 1.3 ov), 2-14 (Samson, 2.5 ov), 3-35 (Nair, 5.6 ov), 4-74 (Smith, 10.1 ov), 5-75 (Binny, 10.4 ov), 6-126 (Hooda, 16.4 ov), 7-160 (Faulkner, 19.3 ov) |                    |
Did not bat: Dhawal Kulkarni, Pravin Tambe
| | | | | |
| --- | --- | --- | --- | --- |
| Bowler | Overs | Maidens | Runs | Wickets |
| Sandeep Sharma | 4 | 1 | 19 | 1 |
| Anureet Singh | 4 | 0 | 23 | 3 |
| Axar Patel | 4 | 0 | 34 | 1 |
| Karanveer Singh  | 4 | 0 | 43 | 0 |
| Mitchell Johnson | 4 | 0 | 34 | 2 |
Kings XI Punjab innings:
| | | |
| --- | --- | --- |
|  Virender Sehwag |  c Samson b Southee |  0 |
|  Murali Vijay  |  run out (Samson) |  37 |
|  Wriddhiman Saha |  run out (Samson) |  7 |
|  Glenn Maxwell |  c Southee b Faulkner |  7 |
|  Axar Patel |  b Southee |  24 |
|  David Miller |  c Faulkner b Kulkarni |  23 |
|  George Bailey |  c Nair b Faulkner |  24 |
|  Mitchell Johnson |  c Southee b Faulkner |  0 |
|  Anureet Singh |  not out |  0 |
|  Karanveer Singh |  not out |  5 |
|  Extras |  (lb 2, w 7) |  9 |
|  Total      |  for 8 wickets |  136 |
|  Overs |  match over |  20 |
| Fall of wickets                             | 1-0 (Sehwag, 0.1 ov), 2-32 (Saha, 2.6 ov), 3-46 (Maxwell, 4.6 ov), 4-64 (Vijay, 8.4 ov), 5-92 (Miller, 13.1 ov), 6-122 (Patel, 17.3 ov), 7-129 (Johnson, 18.3 ov), 8-131 (Bailey, 18.6 ov) |                      |
Did not bat: Sandeep Sharma
Bowling
| | | | | |
| --- | --- | --- | --- | --- |
|  Bowling |  Overs |  Maidens |  Runs |  Wickets |
|  Tim Southee |  4 |  0 |  36 |  2 |
|  Chris Morris |  4 |  0 |  21 |  0 |
|  Dhawal Kulkarni |  3 |  0 |  21 |  1 |
|  James Faulkner |  4 |  0 |  26 |  3 |
|  Pravin Tambe |  3 |  0 |  15 |  0 |
|  Stuart Binny |  2 |  0 |  15 |  0 |