IPL fan park moves to Surat, Warangal
Mumbai: Following successful hosting of the Indian Premier League (IPL) fan parks at Nadiad in Gujarat and Guntur in Andhra Pradesh, the weekend carnival moves to Surat and Warangal."The two cities will host the IPL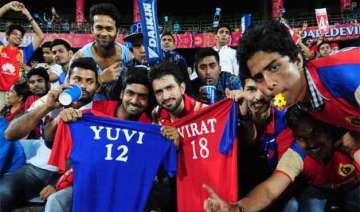 IANS
April 27, 2015 21:32 IST
Mumbai: Following successful hosting of the Indian Premier League (IPL) fan parks at Nadiad in Gujarat and Guntur in Andhra Pradesh, the weekend carnival moves to Surat and Warangal.
"The two cities will host the IPL fan parks on Saturday and Sunday. The gates for the same will open at 2 p.m. on both days," Board of Control for Cricket in India (BCCI) secretary Anurag Thakur said on Monday.
Lalbhai Contractor Stadium in Surat and Jawaharlal Nehru Stadium in Warangal will be the two venues.
The first match on Saturday at 4 p.m. will be played between Royal Challengers Bangalore and Kolkata Knight Riders while the second match will be between Sunrisers Hyderabad and Chennai Super Kings at 8 p.m.
On Sunday, the 4 p.m. match will be between Kings XI Punjab and Mumbai Indians while Rajasthan Royal will take on Delhi Daredevils at 8 p.m.