IPL8: Johan Botha, Azhar Mahmood to replace two injured KKR players
Kolkata: Defending Indian Premiere League (IPL) champions Kolkata Knightriders have brought in Johan Botha and Azhar Mahmood as replacements for injured players James Neesham and Chris Lynn.Kiwi all-rounder Neesham has failed to regain match fitness just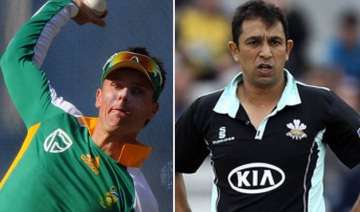 India TV Sports Desk
April 01, 2015 18:19 IST
Kolkata: Defending Indian Premiere League (IPL) champions Kolkata Knightriders have brought in Johan Botha and Azhar Mahmood as replacements for injured players James Neesham and Chris Lynn.
Kiwi all-rounder Neesham has failed to regain match fitness just before the tournament and Australian Lynn was sidelined for 10 weeks after suffering a hamstring injury in Sheffield Shield last month.
Former South Africa all-rounder Botha, has previously played in IPL for the Rajasthan Royals and the Delhi Daredevils. An off spin bowler and a useful lower order batsman Botha has also signed a contract with the Sydney Sixer for the next three Big Bash League seasons.
Pakistan born British all-rounder Mahmood has played two seasons in the IPL for Kings XI Punjab.