Karthik Relieved From Team India, Sent Back To Ranji
Stumper Dinesh Karthik, who was flown in as a last minute back-up for injured Mahendra Singh Dhoni, was today relieved from his duties and asked to return to play Ranji Trophy after the India skipper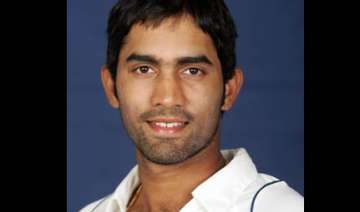 PTI
November 23, 2009 15:24 IST
Stumper Dinesh Karthik, who was flown in as a last minute back-up for injured Mahendra Singh Dhoni, was today relieved from his duties and asked to return to play Ranji Trophy after the India skipper declared himself fit for the second Test against Sri Lanka starting in Kanpur on Tuesday. 
Dhoni said on Monday  that his finger injury, which he sustained during the drawn first Test at Ahmedabad, has healed and accordingly Karthik was relieved to lead Tamil Nadu in their Ranji Trophy Super League match against Himachal Pradesh in Dharmasala tomorrow.
"Yes, Dinesh was called in because I was having some problems. But now he, along with a few others, would go back to play Ranji," Dhoni said.
Karthik last represented India in a Test in Napier in March early this year.