IPL 8: Kings XI Punjab vs Kolkata Knight Riders scoreboard, Match 14
Pune: Scoreboard of Kings XI Punjab vs Kolkata Knight Riders, Match 14 of Indian Premier League 2015 played at MCA stadium here on Saturday.Andre Russell's spectacular all-round performance helped defending champions Kolkata Knight Riders thrashed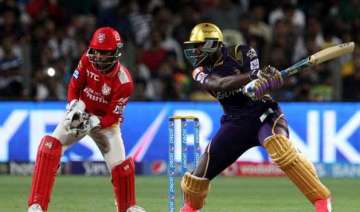 India TV Sports Desk
April 18, 2015 23:43 IST
Pune: Scoreboard of Kings XI Punjab vs Kolkata Knight Riders, Match 14 of Indian Premier League 2015 played at MCA stadium here on Saturday.
Andre Russell's spectacular all-round performance helped defending champions Kolkata Knight Riders thrashed Kings XI Punjab by 4 wickets.
The Jamaican all-rounder hit a blistering 66 from 36 balls after his KKR were reeling at 60 for five as KKR cantered to victory target of 156 in 17.5 overs from a near losing position. 
It was a day to remember for Russell as he first took 2/39 while bowling apart from couple of smart catches during KXIP innings. 
With the willow, he belted nine boundaries and two sixes adding 95 runs in 9.2 overs for the sixth wicket with Yusuf Pathan (28 no) to take his team home which looked unlikely after the first eight overs when half of the team was back in the dug-out. 
Kings XI Punjab innings: 155/9 in 20 overs
| | | |
| --- | --- | --- |
|  Murali Vijay |  c Russell b Umesh Yadav |  0 |
|  Virender Sehwag |  c Chawla b Russell |  11 |
|  Wriddhiman Saha |  c Pathan b Morkel |  15 |
|  Glenn Maxwell |  c Russell b Umesh Yadav |  33 |
|  George Bailey |  run out (ten Doeschate/Uthappa) |  60 |
|  Thisara Perera |  c Pandey b Russell |  9 |
|  Gurkeerat Singh |  c Suryakumar Yadav b Umesh Yadav |  11 |
|  Axar Patel |  c Suryakumar Yadav b Narine |  2 |
|  Mitchell Johnson |  c Gambhir b Morkel |  1 |
|  Anureet Singh |  not out |  0* |
|  Extras |  (b 9, lb 1, wd 3) |  13 |
|  Total |  for 9 wickets |  155 |
|  Overs |  innings break |  20 |
|  Fall of wickets                           |  1-0 (Vijay, 0.4 ov), 2-23 (Saha, 3.5 ov), 3-27 (Sehwag, 4.2 ov), 4-90 (Maxwell, 11.4 ov), 5-107 (Perera, 13.6 ov), 6-131 (Gurkeerat Singh, 17.3 ov), 7-146 (Patel, 18.6 ov), 8-154 (Bailey, 19.4 ov), 9-155 (Johnson, 19.6 ov)  |                      |
Did not bat: Sandeep Sharma
Bowling
| | | | | |
| --- | --- | --- | --- | --- |
|  Bowler |  Overs |  Maidens |  Runs |  Wickets |
|  Umesh Yadav |  4 |  0 |  33 |  3 |
|  Morne Morkel |  4 |  0 |  27 |  2 |
|  Andre Russell |  4 |  0 |  39 |  2 |
|  Sunil Narine |  4 |  0 |  17 |  1 |
|  Piyush Chawla |  4 |  0 |  29 |  0 |
Kolkata Knight Riders innings: 159/6 in 17.5 overs
| | | |
| --- | --- | --- |
|  Robin Uthappa |  lbw b Sandeep Sharma |  13 |
|  Gautam Gambhir |  c Saha b Sandeep Sharma |  11 |
|  Manish Pandey |  c Bailey b Sandeep Sharma |  12 |
|  Suryakumar Yadav |  c Saha b Perera |  23 |
|  Yusuf Pathan |  not out |  28* |
|  Ryan ten Doeschate |  lbw b Sandeep Sharma |  0 |
|  Andre Russell |  b Johnson |  66 |
|  Piyush Chawla |  not out |  4* |
|  Extras |  (lb 1, wd 1) |  2 |
|  Total |  for 6 wickets |  159 |
|  Overs |  match over |  17.5 |
|  Fall of wickets                                |  1-16 (Uthappa, 2.2 ov), 2-34 (Pandey, 4.3 ov), 3-60 (Suryakumar Yadav, 6.5 ov), 4-60 (Gambhir, 7.4 ov), 5-60 (ten Doeschate, 7.5 ov), 6-155 (Russell, 17.4 ov) |                        |
Did not bat: Sunil Narine, Morne Morkel, Umesh Yadav
Bowling
| | | | | |
| --- | --- | --- | --- | --- |
|  Bowler |  Overs |  Maidens |  Runs |  Wickets |
|  Sandeep Sharma |  4 |  1 |  25 |  4 |
|  Anureet Singh |  4 |  0 |  37 |  0 |
|  Mitchell Johnson |  3.5 |  0 |  41 |  1 |
|  Thisara Perera |  4 |  0 |  33 |  1 |
|  Axar Patel |  2 |  0 |  22 |  0 |