Latest Updates: India 71/1 at stumps; trail Aus by 501 runs, 4th test, Day 2
Sydney: India's bowlers have been ineffective on a flat pitch and against a top quality batting line-up as the hosts batted themselves into a position of strength and let them dominate the second day solely. All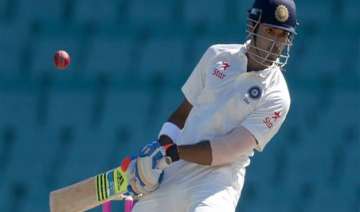 India TV Sports Desk
January 07, 2015 12:56 IST
Sydney: India's bowlers have been ineffective on a flat pitch and against a top quality batting line-up as the hosts batted themselves into a position of strength and let them dominate the second day solely.
All India need to do is avoid the batting collapse and bat through the whole day.
Lyon got some good turn and bounce and he will be the key for the hosts tomorrow. Starc also cranked up fiery pace and often hurried the Indians.
India lost Vijay third ball of their innings but Rohit and Rahul have put on an unbeaten 71 after that. Both have played and missed a few times but have been solid overall. A new top order for India with no Dhawan and Pujara, and so far so good for Rohit and Rahul. The duo laid a solid base for the likes of Rahane, Kohli, Raina to follow.
It was Australia's day again despite a shared evening session. The visitors still trail by as many as 501 runs. Steve Smith set the tone for the day, parading to his fourth ton of the series, while Watson holed out to deep mid-wicket for 81. Burns and Marsh also helped themselves to fifties before the Indian pacers, led by Shami (5/112), stepped up. Smith called his batsmen in after Harris' blazing cameo.
STUMPS DAY 2
India 71/1 after 25 overs (trail by 501 runs)
Rahul 21 (56), Rohit 40 (76)
Rohit Sharma survived a huge lbw appeal by Nathan Lyon who was trapped in front of middle stumps after missing a pre-determined sweep shot. He got a slight bat on it and umpire noticed that well enough to ignore the appeal. Meanwhile Rahul who had struggled in his batting in third test did well to support Rohit at other end and manages to survive till the end of day 2 with a solid partnership.
India 54/1 after 20 overs
Rahul 21 (56), Rohit 33 (61)
Rohit Sharma and Lokesh Rahul have tried well to rebuilt Indian innings after an early loss of Vijay. These two have now put on a half-century partnership and must try not to throw away this good start.
DRINKS BREAK
India 41/1 after 15 overs
Rahul 15 (40), Rohit 26 (47)
Rahul and Rohit are slowly building up a decent partnership. Rahul scores his first ever boundary off Hazlewood through a pull shot he had been trying since his debut. Rohit Sharma too smashed Lyon for second six over the long-on. The two must now try to take their innings further strongly.
India 24/1 after 10 overs
Rahul 6 (24), Rohit 18 (33)
After an early wicket Rahul and Rohit are playing very safe. They have scored just 10 runs in last 5 overs. However Rohit Sharma hit a big six down the ground off Nathan Lyon's second ball of first over this innings. Lokesh Rahul at other end has not played any unusual shot and this is what he needs to do.
India 14/1 after 5 overs
Rahul 3 (9), Rohit 11 (18)
India started with an early wicket of the in-form batsman Murali Vijay for duck. However the batting conditions are still good. Lokesh Rahul has a great opportunity to make the most out of it with Rohit Sharma at other end who is playing the short balls very well. They cannot afford to lose anymore wickets with almost an hour time left for today's play.
Rohit Sharma is in at no. 3
India 0/1
Murali Vijay c Haddin b Starc 0 (3)
OUT! Wicket straight away for Australia. In-form Vijay is out for a duck. It was a loose shot from the Indian opener, who has left the ball so beautifully throughout the series. Starc bowled it well outside off and Vijay goes for a drive away from the body, gets a thin edge to Haddin. Poor start by India.
Mitchell Starc has the new ball and Vijay takes the strike.
So Indian openers are out in the middle. Apart from Vijay, Lokesh Rahul has a great responsibility to support his partner. He must avoid himself to play needless shots.
-------------------------------------
India have around 25 overs to bat out the day. A new opening pair of Vijay and Rahul have their tasks cut out. They had to give a solid start.
Australia have for the fourth time put up a massive first innings total on the board. The message for the batsmen was clear when they came out after tea, i.e. to go after the bowling and get as many runs as possible. Burns started with by hitting Shami over mid-on, but perished off the very next ball. Harris came in and took on Bhuvi, carving him for 19 runs in one over. Steven Smith waved his hand and called his men in right after Harris dismissal. This was Shami's first 5-wicket haul away from home.
Australia 572/7 (dec.) in 152.3 overs
Ryan Harris c Ashwin b Shami 25 (9)
OUT! Ryan Harris after playing a short cameo tries a big shot again and Ashwin takes the catch at deep square leg. That's a five wicket haul for Shami and Australia have declared.
Australians are following a pattern in their dismissals. A century opening stand and then two quick wickets which was followed by another century stand by Watson and Smith and another two wickets of the same pair. Now when Burns and Mars were settled for a century stand, they too departed in quick succession.
Ryan Harris is the next man in at no. 8
Australia 546/6
Joe Burns c Rahul b Shami 58 (114)
OUT! Lokesh Rahul finally takes a catch. Burns after hitting a boundary over mid-on tried the same shot again but finds the fielder at deep. Rahul tracks back and takes it tumbling backwards. He is very much relieved. Fourth wicket for Shami.
Bhuvneshwar Kumar has the ball and Haddin takes the strike.
Third session is set to begin.
-------------------------------
Australia would first look to score past 600 and let India bat for the remaining hour.
Marsh missed out on a ton, guiding a Shami ball to the diving Saha. If Bhuvneshwar concedes one more, all of India's four frontline bowlers will have gone for 100 or more. All India can do is wait for their turn to bat.
Australia have scored 118 runs in 29 overs for the loss of Marsh in that middle session. The hosts are on a strong footing at 538/5. Marsh and Burns combined well, adding 114 for the 5th wicket. During the process, both got to fifties and with it each of Australia's top 6 reached 50-plus scores.
TEA BREAK
Austalia 538/5 after 149 overs
Burns 52 (109), Haddin 7 (4)
Brad Haddin started off his innings with a big six. He lifted pitched up delivery straight over Shami's head. Though Australia lost the wicket of Marsh couple of overs before the tea but with Haddin and Burns on strike Australia would look to swell up their total past 600.
Brad Haddin is the next man in
Australia 529/5
Shaun Marsh c Saha b Shami 73 (116)
OUT! Caught behind! Marsh missed another chance to score a test hundred. Shami pitched it ouside off with extra bounce. Marsh guides it to the left of Saha. The keeper dives and manages to grab it.
Maiden half century for Joe Burns in test cricket with a brilliant sweep shot for four. This is also the fourth time that each of the top 6 six have scored fifties against India and first time for Australia.
Austalia 521/4 after 145 overs
Marsh 69 (112), Burns 46 (93)
Australia crusied to another 500-plus total, 4th time in the series. This is also the fifth time in Test history that a team has crossed 500 four times in a series. Joe Burns is on his way to get his maiden test half century. It is the third batting pair for Australia in this innings to cross the 100-run landmark in their partnership.
Austalia 488/4 after 140 overs
Marsh 52 (99), Burns 30 (76)
The 5th Australian batsman in a row, Shaun Marsh has scored half century this innings for Australia. India once again let the momentum slip away from them. Batsmen look well settled and with a partnership of 73 runs. Joe Burns at other end too is playing on 30, his highest individual score in tests. The hosts are heading towards another massive total on the board.
Austalia 465/4 after 130 overs
Marsh 38 (67), Burns 21 (48)
After the top four, no. 5 batsman scoring 50-plus scores, Shaun Marsh gets in the show as well. With some beautiful shots he took his individual score to 38 and the partnership has crossed the half-century mark with Joe Burns at other end.
Austalia 440/4 after 125 overs
Marsh 22 (53), Burns 12 (32)
Virat Kohli started with spinners from both end after lunch. Ashwin and Raina both were hit for boundaries and a six by the batsmen right after the break. India should not let his partnership go further.
Ashwin to start off with a slip, leg slip and short leg in place for Burns.
Virat Kohli is leading the young Indian side back to field and also the two new Aussie batsmen Shaun Marsh and Joe Burns
----------------------------------------
Australia would look to bat till the final session and put India bat in the remaining hour of the day.
Watson threw away a glorious chance to make a hundred and then Smith got out after his ton. Marsh was dropped too and the pressure is on these two batsmen, although they have plenty of runs on the board.
It was a much better second hour as just 24 runs have been scored by the batsmen. India showed some rare discipline after a listless first hour. They have made a good fist of it after getting Smith. Umesh and Ashwin combined to bowl four maiden overs in a row. Earlier on India showed no intent or any hunger as they went through the motions. They allowed Smith to make another easy hundred. The first hour was characterised by general sloppiness from the Indians when there were fumbles, misfields and poor bowling combined.
LUNCH BREAK
Austalia 420/4 after 120 overs
Marsh 14 (38), Burns 0 (17)
Bowlers have kept it tight after two quick wickets of Watson and Smith. Ashwin and Yadav bowled two back to back maiden overs each before Suresh Raina was brought to bowl the last over before lunch and conceded a boundary to Marsh.
Austalia 416/4 after 115 overs
Marsh 10 (20), Burns 0 (5)
After Shami, Umesh Yadav gets another major breakthrough for India in this morning. Steven Smith had a small nick to the keeper Saha. India could have got another wicket when Vijay dropped a catch at second slip after Marsh got an outside edge off Ashwin.
Joe Burns walks in at no. 6
Australia 415/4
Steven Smith c Saha b Yadav 117 (208)
OUT! Another big wicket. This time an outside edge for Smith and Saha takes the catch. Umesh Yadav finally gets his man.
Austalia 409/3 after 110 overs
Smith 113 (196), Marsh 7 (7)
Shami gets India its first success of the morning after dismissing Watson who missed a much needed test hundred by 19 runs. He was settled with Smith on other end with a partnership of 196 runs. Shaun Marsh joined his skipper in the middle and Indians must not allow another partnership to flourish.
Shaun Marsh is the next man in
Australia 400/3
Shane Watson c Ashwin b Shami 81 (183)
OUT! Finally the partnership broken. Shami pitched it short outside off and Watson tried to hit it over midwicket but the ball finds Ashwin at deep. He has thrown away his best chance of making a Test ton.
Austalia 398/2 after 105 overs
Watson 79 (173), Smith 111 (183)
The story of the Australian domination continues. Smith has got to his fourth hundred in the series. Watson is nearing one too. India have looked very flat. Misfields, fumbles, full tosses - Indian players did it all. They are waiting for a declaration - which isn't coming anytime soon as Australia would be looking to score 550-plus or even 600.
Austalia 383/2 after 100 overs
Watson 73 (158), Smith 102 (168)
Steven Smith gets his 4th hundred in the series with a brilliant boundary through midwicket off a friendly full-toss. Umesh Yadav hits the century in this innings. He has already conceded 111 runs in his 18 overs with an economy of 6.16. Definitely he should have been replaced by Axar Patel in this match. The Indian fielders have been sloppy on the field as well.
Austalia 355/2 after 95 overs
Watson 64 (148), Smith 83 (148)
India started off well with more disciplined lines so far this morning. Bhuvneshwar Kumar started off with two maiden overs and Shami from other end conceded 5 runs off his two. Watson was struck on his helmet off Shami's bouncer. He tried to duck and turned his head. The ball hits the back side of helmet and went over the slips.
Bhuvneshwar Kumar to start off and Smith takes the strike.
Players are on the field now and so are the Aussie overnight unbeaten pair of Steven Smith and Shane Watson. They both have already shared 144 runs together so far.
It will be interesting to see that will Australia continue to dominate the visitors or India rethink their strategies and try to stop the batsmen.
At this stage, Australia is well set to score another 500-plus total in first innings. India must now aim to restrict under this total.
Warner's quickfire century was the highlight of the day. The Aussie opener was ultra emotional after reaching 63* but composed himself after the lunch break and powered the hosts forward. Chris Rogers proved to be an able foil in a big 200-run opening stand but was unfortunate to convert his fifty 50-plus score in a row to three figures.
India began the day with an early dropped catch and have ended with another drop. They let the hosts score 106 runs in 30 overs without losing a wicket in the last session.