Latest Updates: India 342/5 at stumps; trail Aus by 230 runs, 4th Test, Day 3
Sydney: After a disastrous bowling performance, Indian batsmen have the responsibility to cover the damage and the first target would be to avoid the follow-on. Australia are ahead by 230 going into day four and they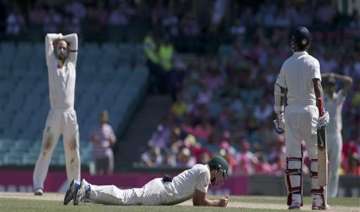 India TV Sports Desk
January 08, 2015 12:55 IST
Sydney: After a disastrous bowling performance, Indian batsmen have the responsibility to cover the damage and the first target would be to avoid the follow-on.
Australia are ahead by 230 going into day four and they could be in for a big lead unless Kohli, Saha and the Indian tail resist.
Even as Watson produced a double strike, removing Rahane and Raina off successive balls, Virat Kohli extended his top form, finishing unbeaten on 140. During the process, Kohli passed Rahul Dravid (619) to snatch the record for the most runs by an Indian in a Test series in Australia. His knock contained punchy drives, strong pulls and wristy flicks among other strokes.
Centuries from Lokesh Rahul and Kohli lead India's spirited reply as the visitors close out the day at 342/5. The overnight pair of Rohit Sharma and Rahul began cautiously, surviving a testing opening hour.
India scored 271 runs 90 overs bowled today and lost just 4 wickets.
STUMPS DAY 3
India 342/5 after 115 overs (trail by 230 runs)
Kohli 140 (214), Saha 14 (50)
Kohl-Saha have successfully survived the last half hour of the session. The partnership has also crossed the half-century mark. The last batting duo have played cautiously to drive India safe at stumps.
India 332/5 after 110 overs (trail by 240 runs)
Kohli 134 (208), Saha 10 (26)
Virat Kohli is in no mood to stop the attack on the Australian bowlers. Saha is supporting him well at other end and the duo now share the partnership of 40 runs.
Virat Kohli is now the leading run scorer in a test series in Australia among Indians with 623 runs and still batting. He surpassed Dravid's record of 619 runs.
India 307/5 after 105 overs (trail by 265 runs)
Kohli 119 (190), Saha 2 (13)
Kohli and Saha are playing it too safe and defensive in order to survive the remaining play of today. Kohli on one end however conitnues to attack the poor deliveries.
Rahane's dismissal: Hawk-eye shows that the impact was outside off and was going over the stumps. Harsh decision by the umpire. Unluck Rahane!
India 292/5 after 100 overs (trail by 280 runs)
Kohli 107 (172), Saha 0 (1)
Virat Kohli reaches his 4th century in the series with a couple down the ground. He jumps in air with joy and raises the bat. He stood like a wall in every innings of every test despite second test at Brisbane. He also completed 900 test runs in 8 matches played in Australia with 5 centuries. Anushka Sharma in the stands applauds his performance as well. That was his third century on the trot as a captain.
Shane Watson brought back Australia into the game with two back to back strikes of Rahane and Raina. The Kohli-Rahane partnership too crossed the half-century mark but couldn't convert into a big one. Now Saha and Kohli has the responsibility to take India through to the remaining 40 minutes of the play left today.
Wriddhiman Saha is in at no. 7
India 292/5
Suresh Raina c Haddin b Watson 0 (1)
OUT! Out on the first ball and double strike from Watson. The ball was full outside off and Raina played it wide. He gets an outside edge to Haddin who takes a good diving catch. Golden duck for Raina and Watson is on hat-trick.
Suresh Raina is in at no. 6
India 292/4
Ajinkya Rahane lbw b Watson 13 (31)
OUT! Rahane is a goner! Huge appeal for lbw by Watson and umpire after having a thought raises his finger. He on the back foot and missed the pull as he was rapped on the thigh. Poor choice of shot that was.
India 258/3 after 90 overs (trail by 314 runs)
Kohli 86 (140), Rahane 1 (5)
Lokesh Rahul was dismissed in a similar manner as he got out in both innings on his debut. He tried to play a pull shot, misjudging it once again for the top edge and taken by Starc. However Virat Kohli enters into the 80s once again with three boundaries in an over of Ryan Harris and is still looking good.
Ajinkya Rahane comes in at no. 5
India 238/3
Lokesh Rahul c & b Starc 110 (262)
OUT! Poor shot once again. It was short and going across the batsman and Rahul goes for pull. The ball goes high in the air off the top-edge and Starc runs across to the left of Rahul to take the catch. Third time in all the three innings he tried the same shot and got out in the same manner.
Ryan Harris to start off with Virat Kohli on strike. Two slips and a gully in place
India did so far in the day however they are still far behind the Australian total and they still need 139 runs to avoid the follow-on.
---------------------------------------
The final session is interestingly poised and the conditions are right for Kohli to go reach his 4th ton of the series.
Rahul will be the happiest going back to the dressing room. The youngster from Karnataka completed his maiden Test ton and that too against Australia in Australia at the historic Sydney Cricket Ground. He was well supported by skipper Kohli, who continues his good form and is currently looking all set to reach another ton.
Indians must be extremely happy with how things went in this session in their favor. They scored 112 runs in 30 overs, but the key was that they didn't lose a wicket. They scored at a decent rate as well, considering that their scoring rate was very poor in the morning session.
TEA BREAK
India 234/2 after 85 overs (trail by 338 runs)
Rahul 106 (256), Kohli 67 (121)
Lokesh Rahul finally gets his maiden test hundred in style with a backward point boundary. He was warmly hugged by the skipper Kohli and must be relieved after a couple of failure in his debut. Virat Kohli too gets his another half-century in the series and the partnership too has cruised over the 100-run landmark. However he was dropped yet again by Steven Smith at slips when a big outside edge went over the slips and the ball popped out of his hands. Starc had the second new ball first and conceded 11 runs and he had been warned by the umpire to stay out of the danger area.
India 183/2 after 75 overs (trail by 389 runs)
Rahul 82 (214), Kohli 45 (103)
India are going along smoothly. Rahul has had his moments, but he has survived. He is into the 80s and now must be aiming to convert this into a big one. Kohli is once again looking the best batsman for India. These two need to carry on for a while, if India have to get anywhere close to the Australian total.
DRINKS BREAK
India 167/2 after 70 overs (trail by 405 runs)
Rahul 74 (202), Kohli 37 (85)
Kohli and Rahul have shared  runs so far. They have started playing shots and whay would have pleased Lokesh Rahul would be his timing of playing the shots. He is into the 70s and looking to score far more than that. Kohli at the other end continues his prolific form in the series with some beautiful drives. Lyon appeals for caught and bowled against Rahul but the ball hits the ground first and so he survived again.
India 132/2 after 60 overs (trail by 440 runs)
Rahul 59 (179), Kohli 17 (48)
Lokesh Rahul is looking after the lunch. He looks desperate to take singles and should continue to stay in the crease and convery his innings into a big one.
Kohli takes the strike and Nathan Lyon to bowl to him
It has been slow progress from India and they need to worry for the run rate which needs to be accelerated. The second session is about to get underway.
----------------------------------
Rahul then registered his maiden Test fifty but is still lucky to be out there. He would have been a goner had the wire of the spider cam not distracted Smith's focus while back-tracking for a catch from slip. Kohli too escaped a stumping chance at the stroke of lunch. India still have a lot of rebuilding work to do.
That was an evenly matched session. The only good thing was that India didn't lose wickets despite that of Rohit Sharma. Runs are dried since the morning. Only 51 runs added to the overnight total in 30 overs bowled.
LUNCH BREAK
India 122/2 after 55 overs (trail by 450 runs)
Rahul 50 (164), Kohli 16 (33)
Lokesh Rahul completes his maiden test half-century after a disastrous debut. However he survived a scare when the he top edged the ball and Smith dropped the catch. The Aussie skipper was disappointed after that and pointed towards the sky. It may be spider cap wire or sunshine that caused a dropped catch.
Haddin did a good work behind the stumps. Umpire called the third umpire but Kohli's front foot was at the crease.
India 113/2 after 50 overs (trail by 459 runs)
Rahul 46 (148), Kohli 12 (18)
Nathan Lyon is getting turn and bounce from the pitch. He kept the batsmen under pressure to score runs. Virat Kohli struck two boundaries off Starc and they need more these kind of shots.
India 102/2after 45 overs (trail by 470 runs)
Rahul 43 (131), Kohli 4 (5)
The 44th over has been en eventful over. After Rohit's dismissal, Kohli was beaten on the first ball by Lyon off a flighted off-break delivery. Haddin was beaten as well, does not glove the ball cleanly. There was a miscommunication between the wickets - Rahul was off for a risky single but has to retreat. He made a sprawling dive and lands on his shoulder. Though he was safe but looked in some discomfort. In fact, Rahul slipped while turning back and lost his bat. Steven Smith was disappointed with his fielders' effort.
Virat Kohli comes in at no. 4
India 97/2
Rohit Sharma b Lyon 53 (133)
OUT! First strike for Australia this morning. It was full outside off by Lyon, Rohit attempted a sweep shot gets the under edge onto the stumps. Poor shot once again.
DRINKS BREAK
India 90/1after 40 overs (trail by 482 runs)
Rahul 41 (119), Rohit 47 (120)
The scoring rate has been very low for India, 19 runs in 15 overs in the first hour of the game. They need to score runs on the poor deliveries. Just being defensive is just not enough. But the good thing is India didn't lost a wicket so far as both the batsmen are slowly inching towards their half centuries.
India 83/1after 35 overs
Rahul 35 (97), Rohit 46 (112)
The two batsmen out there are playing very defensively. Only 12 runs have been scored in first 10 overs of the day. That's what they need to do. They had to play a long innings.
India 78/1after 30 overs
Rahul 35 (79), Rohit 42 (99)
Rohit started off with a maiden over but Lokesh Rahul struck Starc for a boundary to open the Indian account for today. The pitch is having an uneven bounce. The batsmen need to be careful to judge the short pitch deliveries whether they will bounce well or stay low.
Harris set to resume the attack. Rohit Sharma takes the strike.
The SCG is covered in pink as it is Jane McGrath day. The Channel Nine commentators will wear pink blazers as a tribute. The Australian team are greeted by the McGrath family. The players were seen handing over the Baggy Pink to Glenn McGrath.
All India need to do is avoid the batting collapse and bat through the whole day.
India lost Vijay third ball of their innings but Rohit and Rahul have put on an unbeaten 71 after that. Both have played and missed a few times but have been solid overall. A new top order for India with no Dhawan and Pujara, and so far so good for Rohit and Rahul. The duo laid a solid base for the likes of Rahane, Kohli, Raina to follow.
Steve Smith joined the greats with his fourth century of the series as India hung in after the shock loss of an early wicket on the second day of the final Test in Sydney.