Latest Updates: Australia 251/6 at Stumps; lead Ind by 348 runs, 4th test, Day 4
Sydney: Indian batsmen after batting for the whole Day 3, certainly seemed to have taken the game away from Australians but bowlers pegged the hosts back into the game with poor bowling show. With a lead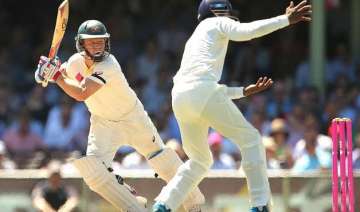 India TV Sports Desk
January 09, 2015 12:36 IST
Sydney: Indian batsmen after batting for the whole Day 3, certainly seemed to have taken the game away from Australians but bowlers pegged the hosts back into the game with poor bowling show.
With a lead of 348 and the kind of help spinners are getting from the pitch, the chances of overnight declaration by Australia cannot be ruled out. Lyon will be Australia's key towards forcing a win and wrapping up the series 3-0.
For India, the bowling was all about Ashwin. The bowling from the pacers was tripe - they continued to leak runs from one end, putting too much pressure on Ashwin. It will be a question of survival for the visitors. Or will Kohli inspire his troops to attack the target like he did in Adelaide?
Ashwin sustained the sharp turn and extra bounce in the first half of the final session too, finishing with 4 wickets. Despite the off-spinner removing Watson for 16, the hosts continued to counter-attack. Steve Smith looked like he was batting on a different surface, scoring runs for fun. During the process, he went past Sir Don Bradman to become the leading run-getter in an India vs Australia Test series.
India may have nursed slim hopes of a comeback after Ashwin removed Warner early on before tea but fifties from Rogers, Smith and Burns, wiped them all out, powering the hosts to a massive lead of 348.
Australians have amassed 251 runs in 40 overs in their second innings with the loss of 6 wickets. It seems like they are all set for the approaching Tri-series and World Cup with the kind of batting their batsmen are showing.
STUMPS
Australia 251/6 after 40 overs (lead by 348 runs)
Haddin 31 (30), Harris 0 (0)
Umesh Yadav's bowling had been worse from even pathetic. He leaked 45 runs in his 3 overs conceding 10 fours. The damage had been done by the batsmen. All the Indian frontline bowlers have again given away runs at an economy of above five. Joe Burns was Ashwin's 4th wicket after he completed his second fifty of the match in just 33 balls. Haddin at the other end is on fire as well. Ashwin was booed by the crowd at the edge of the boundary.
Rain has started falling and umpires called it stumps.
Ryan Harris is the next man in
Australia 251/6
Joe Burns c Yadav b Ashwin 66 (39)
OUT! Burns ends the entertainment as he top edges a sweep off a carom ball to deep square leg. Ashwin gets his 4th wicket.
Australia 197/5 after 35 overs (lead by 294 runs)
Burns 33 (24), Haddin 12 (15)
Ashwin had been troubling the batsmen with his turn but Joe Burns took the attack back on him, hitting two fours and a six off his over. Haddin from other end is also looking to attack. Saha missed a stumping chance against Burns off Ashwin's extra bounced delivery. However Shami dismissed Steven Smith leg before but runs are still coming in form of boundaries.
Brad Haddin comes in at no. 7
Australia 165/5
Steven Smith lbw b Shami 71 (70)
OUT! Shami finally gets his man. Quick in-swing yorker by Shami struck right on front pad of Smith. Umpire raises his finger straightaway but the replay shows that there was a slight inside edge. Smith has amassed 769 runs in this series.
Australia 163/4 after 30 overs (lead by 260 runs)
Smith 70 (65), Burns 12 (14)
Ashwin gets India their fourth major breakthrough after dismissing Chris Rogers. Steven Smith is on fire. He might be looking to extend Australia's lead over 300 today itself and let India bat almost a day tomorrow.
Joe Burns comes to the crease and a slip, forward short leg and backward short leg greet the new batsman.
Australia 139/4
Shaun Marsh c Vijay b Ashwin 1 (4)
OUT! Ashwin gets his third. Turn for him and Marsh gets a soft outside edge to Vijay at slip.
Australia 138/3 after 25 overs (lead by 235 runs)
Smith 58 (51), Marsh 1 (2)
India got rid of Watson early, but  Smith and Rogers have counter-attacked later on until Rogers threw his wicket away to Bhuvneshwar while trying for a pull. However he completed his 6th half century on the trot while skipper Smith also gets his 6th half century and also  750-plus runs in the series. He is batting at the strike rate of well above 100. The pacers have been hopeless, they have leaked runs far too easily and have not supported Ashwin who is bowling a superb spell at one end. The lead is now 235, with 7 wickets in hand, the match seems to have gone out of India's reach. If Australia continue to bat like this, then even a draw would be difficult for India. The hosts are clearly playing for a win here.
Shaun Marsh is the new man in
Australia 126/3
Chris Rogers c Raina b Kumar 56 (77)
OUT! Rogers goes for another big one after getting to his fifty but finds Raina at deep mid-wicket.
Australia 105/2 after 20 overs (lead by 202 runs)
Rogers 48 (69), Smith 34 (31)
Good tight bowling from Raina and Ashwin have somehow controlled the flow of runs after the Indian pacers leaked runs. Australian run rate has also came down to 5.2 from 6.5 runs per over when the pacers were bowling. Australia get their total past 100 and they now lead India by 202 runs.
Australia 87/2 after 15 overs (lead by 184 runs)
Rogers 37 (47), Smith 27 (23)
Indian pacers are losing it out once again. Umesh Yadav was brought into the attack and conceded 17 runs including 4 boundaries and a no-ball in his first over. Australia are cruising towards a big lead once again.
Australia 62/2 after 10 overs (lead by 159 runs)
Rogers 36 (31), Smith 5 (8)
Ashwin struck twice right after the tea break dismissing Watson but don't have control on conceding runs. He has already conceded 31 runs in his 5 overs. Rogers' quickfire innings helped him to reach 36 off just 31 balls. Ashwin is getting some good turn and at this time India should have had one extra spinner.
Steven Smith comes in at no. 4
Australia 46/2
Shane Watson b Ashwin 16 (17)
OUT! Ashwin strikes again and this time its Watson who gets an inside edge onto the stumps. Watson hangs on the back foot and looks to cut, the ball kept low, takes the edge and hits the base of off-stump.
Shami to resume bowling with Rogers on strike. Only one slip and a gully in place.
Players are back on the field and batsmen are walking in upto the middle.
The last session will be underway in moments and is surely going to be very crucial.
-------------------------------------------
With Warner gone, they will want Watson to score quickly, while Rogers will look to hold one end up.
After scoring a fighting fifty and helping India to 475, Ashwin struck with the new ball to have Warner caught at slip in his very first over. He got the hard new ball to spin, rip and jump to pose questions to the hosts. Kohli set up attacking fields to assist the offie, despite India conceding a substantial first innings lead of 97. Watson and Rogers had their moments as well. Australia are now ahead by 135 runs.
TEA BREAK
Austalia 38/1 after 6 overs (lead by 135 runs)
Rogers 21 (17), Watson 13 (14)
Ashwin got the first success for India dismissing the big man Warner but was smashed for three boundaries in his second over by Rogers and Watson. Watson survived a run out chance when an extra bounce delivery spinned down led missing the keeper and slip. Vijay ran back and throwed it back to the keeper. Saha does not collect the ball and took the bails off without it. Boundaries are flowing for Australia again. He had been attacking Ashwin for boundaries and took Australia quickly to the score of 38 at tea.
Shane Watson is in at no. 3
Australia 6/1
David Warner c Vijay b Ashwin 4 (5)
OUT! Ashwin strikes with the new ball. It was a flighted length ball and Warner played back inside the crease and gets an outside edge to Vijay at slip. Good show of captaincy by Kohli as well.
Bhuvneshwar Kumar to start for India and Rogers take the strike.
Aussie openers Chris Rogers and David Warner are in the middle as well.
So Australia are set to begin their second innings. Team India is in a huddle with the skipper Kohli having a chat with his players.
---------------------------------------
The batsmen have to push this game forward and now bowlers must perform well to restrict Australia to the least score as possible.
India's last four wickets have added 123 runs, but the lead is nearly 100 for Australia. They began the session very well with Ashwin and Bhuvi getting some quick runs till Bhuvi was given out in a bit controversial decision by the third umpire. Ashwin went to complete his 4th Test fifty but India got bowled out for 475. In the interim, Shami slogged his way to 16 to bring Australia's lead below the three figure mark.
The new ball was taken in the middle of the 162nd over by Ryan Harris and it does the trick as India are bowled out for 475 with a trail of 97 runs.
India 475 all out after 162 overs (trail by 97 runs)
Mohammad Shami 16 (26)
Umesh Yadav c Haddin b Harris 4 (9)
OUT! Yadav hits that high in the air and Haddin takes the catch.
India 470/9 after 160 overs (trail by 102 runs)
Shami 15 (23), Yadav 0 (0)
Ashwin continued solidly after Bhuvi's unlucky dismissal and has managed to get his 4th test half-century. But he was soon dismissed by Starc off an extra-bounce delivery outside off. Shami too survived a huge caught behind appeal after he scored two fours and a six of Lyon's over.
Umesh Yadav is the last man in for India
India 456/9
Ravichandran Ashwin c Haddin b Starc 50 (111)
OUT! Ashwin is gone. It was slightly short outside off by Starc, Ashwin pushes his bat forward and gets a thick edge to Haddin.
India 449/8 after 155 overs (trail by 123 runs)
Ashwin 44 (96), Shami 0 (8)
Just when the things were going good for India, third umpire turned a tough decision of caught behind against Bhuvneshwar Kumar in Australia's favor. However even after viewing from many angles, the ball went to Watson clearly after the bounce. Ashwin on other hand, brings up his 1000 test runs with a single dabbed towards backward point.
Mohammad Shami is in at no. 9
India 448/8
Bhuvneshwar Kumar c Watson b Lyon 30 (75)
OUT! Appeal for caught behind! Umpire referred it to the third umpire and after taking long time, Bhuvi have been given out. The replay showed that the ball touched the bottom of the bat and the ground at the same time. Bhuvi is unlucky there and even Australians are surprised with the decision. Clearly that was not out.
India 442/7 after 150 overs (trail by 130 runs)
Ashwin 40 (87), Bhuvneshwar 27 (62)
Ashwin and Bhuvneshwar had a good start after the lunch with a boundary in almost every over. Harris bowled a no-ball to Bhuvi off which he scored a boundary but the umpire was not able to spot it. The partnership has crossed the half-century mark and these runs are really frustrating the Aussies.
Bhuvneshwar Kumar takes the strike and Ryan Harris to start off
So the players are walking back onto the field. It is certainly the last session of Indian innings and it would be interesting to know how far can Bhuvi-Ashwin duo take the visitors.
----------------------------------------
It is the first time that both the teams have gone past 400-plus totals in the first innings of each test in a series of minimum three tests. 8 number of times that teams have scored 400 in this series, the most ever in a test series.
Saha showed great resistance but Hazlewood got the better of him with a bouncer. He was late in deciding not to play the pull shot and gloved it to Smith at fly slip. Bhuvneshwar joined Ashwin and the duo saw off a few tough phases and carried their bats to lunch. Bhuvi was dropped off Lyon at forward short leg, while the latter got lucky with a few outside edges as they didn't go to hand. India are still 165 runs behind and Australia are ahead by a long way.
LUNCH BREAK
India 407/7 after 144 overs (trail by 165 runs)
Ashwin 33 (74), Bhuvneshwar 3 (39)
After two early wickets, Ravichandran Ashwin stayed strong and took India though the first session safely without losing any wicket. He had some heated exchange with Mitchell Starc and umpire Dharmsena intervened to stop them.
India 402/7 after 140 overs (trail by 170 runs)
Ashwin 30 (59), Bhuvneshwar 1 (30)
Ravichandran Ashwin has shown why he is India's best test all-rounder. He takes wickets and has the ability to hang around at the crease when needed. He has batted well so far in the innings and has five boundaries in his name. He gets India's total past 400 with a third man boundary through the gap.
India 391/7 after 135 overs (trail by 181 runs)
Ashwin 19 (42), Bhuvneshwar 1 (17)
Bhuvneshwar batted well in England and Ashwin has two test centuries, both should stay long at the crease after losing two wickets of well set Kohli and Saha. Bhuvi however was dropped by Burns at short leg when a flighted delivery by Lyon spinned back to him and got an inside edge which went over the the fielder.
Bhuvneshwar Kumar is in at no. 9
India 383/7
Wriddhiman Saha c Smith b Hazlewood 35 (96)
OUT! another wicket! Short ball does the trick for Hazlewood. It was a bumper and Saha trying to duck on the leg side, gets his gloves touched and Smith took the catch st slips. Umpire took a while and raises his finger.
India 383/6 after 130 overs (trail by 189 runs)
Saha 35 (94), Ashwin 12 (31)
India avoided the follow-on after Saha tucked down a freebie from Watson to deep square leg for three runs. It's really great to see Saha batting out there. If he had played like this in first test, the series would have been 1-1 now. The pitch isn't aiding the pacers, but looks like the ball has just started to reverse a bit. The Australian bowlers have kept it tight and it is going to be a very interesting battle between bat and ball from here on.
India 365/6 after 125 overs (trail by 207 runs)
Saha 22 (74), Ashwin 7 (21)
Saha is hanging in there, good leaves and a nice eye to put away loose deliveries. With Saha and Ashwin at the crease and Bhuvneshwar yet to bat India must survive through the morning session.
India 356/6 after 120 overs (trail by 216 runs)
Saha 17 (61), Ashwin 4 (3)
The bowlers are not getting any movement in the air or off the pitch so far in the five overs bowled today. A quite start by the batsmen and India's total gets past 350. The pitch still looks good for batting. Virat Kohli was the first major breakthrough for Australia this morning who was caught at short midwicket. Now Indian tail has to learn from their Australia counterpart and stay long. The pressure is on India very early in the day.
Ravichandran Ashwin is in at no. 8
India 352/6
Virat Kohli c Rogers b Harris 147 (230)
OUT! First wicket for Australia and it's a big one. Kohli tried to flick on the leg side but finds Rogers at short mid-wicket. Kohli is disappointed.
Ryan Harris to start off and Virat Kohli takes the strike. One slip and a gully in place.
So the players are walking out and two Indian unbeaten batsmen Virat Kohli and Wriddhiman Saha are in the middle.
Australia are ahead by 230 going into day four and they could be in for a big lead unless Kohli, Saha and the Indian tail resist.
Kohli passed Rahul Dravid (619) to snatch the record for the most runs by an Indian in a Test series in Australia.
Spidercam, dropped catches, sloppy fielding allowed Lokesh Rahul and Virat Kohli to complete their centuries and hamper Australia hopes for a victory. The duo helped India to post 342/5 at stumps on Day 3.