Latest Updates: Tri-series 6th ODI; England win by 3 wickets
Perth: The disnmal show by the Indian batters continued in today's game also as the whole Indian  batting line up crumbled once again. With World cup just a couple of weeks away Team India's managment has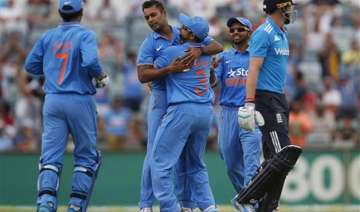 India TV Sports Desk
January 30, 2015 16:39 IST
Perth: The disnmal show by the Indian batters continued in today's game also as the whole Indian  batting line up crumbled once again. With World cup just a couple of weeks away Team India's managment has a lot of brainstorming to do .Team India also ended the tour to Australia without a single win.
Meanwhile  England win it by three wickets after being in trouble early on. Their openers made low scores, middle order hardly contributed anything but James Taylor fought it out with a gritty fifty, accompanied by Jos Buttler. Both got out in the end, but had steered their team to a comfortable position by then.
Ravindra Jadeja to Woakes, no ball, England win! They have also qualified for the final. Jadeja oversteps and fires it around off
 
Stuart Broad, left handed bat, comes in the middle
Buttler c Rayudu b Shami 67(78)
Shami to Buttler, OUT Caught by Rayudu
England 193/6 after 45 overs ( 8 runs to win)
Chris Woakes comes in the middle
James Taylor c Binny b Mohit Sharma 82(122)
Mohit Sharma to James Taylor, out Caught by Binny!
A direct hit at the bowler's end, it goes to the third umpire! NOT OUT
Butler came at a crucial juncture when England were staring at defeat with thier top five batsmen back in the pavillion. However Butler had other opinion as he played a gritty innings and more importantly add a good stand with Taylor.Butler with a strike rate of over 80 has done his job perfectly without taking too much risk
England 163/5 after 40 overs ( 38 runs to win)
Buttler brings up his 6th ODI fifty, gets there with a chip.
The England duo  of Butler and Taylor  are nudging thier way towards the target and avoiding any anything fancy at the WACA.
England 141/5 after 35 overs ( 60 runs to win)
James Taylor    57 (95) Buttler    41 (47)
Both Taylor and Butler  have added over 50 runs in 10 overs. Batting looks totally different with these two and India once again have failed to take a quick wicket after taking 5."England inching closer to victory. These two are batting sensibly at the moment given the fairly modest target India set.
4th ODI fifty for James Taylor his second of the series and both have come against India
England 119/5 after 30 overs (82 runs to win)
Taylor 45 (79), Buttler 31 (33)
Buttler and Taylor are up with a half century partnership and really taking it away from India with some good and confident cricket.
England 92/5 after 25 overs (109 runs to win)
Taylor 35 (67), Buttler 15 (15)
Taylor and Buttler are the last recognized batsmen at the crease now for England and are looking confident. They now have to share a good stand to take England home. Indian bowlers did a commendable job here and the fielders played their part too.
Jos Buttler is in at no. 7
England 66/5 after 20 overs (135 runs to win)
Taylor 25 (52)
For the first time on this tour, the Indian pacers have exerted some pressure on the batsmen. Mohit was excellent with the new ball and the back-up has been good as well with Binny dismissing the England skipper Eoin Morgan and Ravi Bopara cheaply. James Taylor will be the key for England in the chase now. India must not lose it from here.
Ravi Bopara c Jadeja b Binny 4 (6)
OUT! Binny gets his third! Short delivery outside off, Bopara tries to cuts but it went straight to Jadeja at point.
Ravi Bopara comes to the crease at no. 6
England 54/4
Eoin Morgan c Dhawan b Binny 2 (13)
OUT! Binny gets his second. It was length delivery outside off and Morgan mistimes it to Dhawan at mid-off who takes the simplest of catches.
England 45/3 after 15 overs (156 runs to win)
Taylor 10 (38), Morgan 0 (3)
Indian bowlers made a strong fightback after a terrible show with the bat. Binny and Mohit are bowling really well with Axar Patal getting a crucial wicket of Moeen Ali. The Indian fans on the ground are really at the top of their voice.
Eoin Morgan comes in at no. 5
England 44/3
Joe Root c & b Binny 3 (2)
OUT! Binny gets his man. It was full outside off and Root hits it back to the bowlers who takes a good return catch.
Joe Root is in at no. 4
England 40/2
Moeen Ali c Rayudu b Patel 17 (34)
OUT! Axar Patel strikes. Moeen Ali went down the pitch and lofted it over the bowlers head but Rayudu came running and takes a good catch at long-off. The danger man is out.
England 35/1 after 10 overs (166 runs to win)
Ali 16 (29), Taylor 5 (18)
Indian bowlers have so far managed to restrict England from a flying start. Mohit Sharma has been bowling really well with good pace and bounce. He needs to be supported by Shami and other bowlers. Meanwhile the fielding has also been upto the mark.
England 19/1 after 5 overs (182 runs to win)
Ali 6 (15), Taylor 1 (8)
Good start by the bowlers. Mohit Sharma has been bowling really well, above 140 kph and dismissed Ian Bell with a pitched up delivery on middle and leg which kept low and left the batsman surprised. Shami joined the attack in 5th over bowled couple of good yorkers to trouble the English batsmen.
James Taylor is in at no. 3
England 14/1
Ian Bell lbw b Mohit 10 (13)
OUT! Mohit Sharma strikes! That was pitched at good length which kept low. Bell was plumbed in front and Umpire had no doubt in that.
Stuart Binny to start off and Bell takes the strike.
So England are about to begin their chase in a short while. England openers Moeen Ali and Ian Bell are in the middle.
------------------------------------
England need 201 to book a berth in the final. On the back of India's bowling display so far on this tour, it very much unlikely that they would defend this total.
Another feeble batting display by the Indians. The WACA pitch had pace, bounce and everything that the Indian batsmen normally fear, but after getting off to a reasonable start, they folded away rather badly.
If not for the final pair, they would have fallen for even a lower score. Shami played a useful cameo of 25 runs off 18 balls to take India to 200. The capitualtion started at the exit of Kohli and never stopped afterwards. Dhawan and Rahane took their time to settle, added 83 for the first wicket. It wasn't the most convincing cricket at times, but they did manage to keep England bowlers at bay.
India 200 all out after 48.1 overs
Mohit Sharma 7 (6)
Mohammad Shami c Buttler b Woakes 25 (18)
OUT! Shami goes for a big shot again but the slower ball works once again. Big outside edge to Buttler and Woakes gets his second. India are all out for 200.
India 170/9 after 45 overs
Shami 5 (4), Mohit 0 (1)
Wickets are tumbling here for India. They are nine down in a blink of an eye. 43 runs scored by last 7 Indian batsmen.  Very poor cricket show by the defending world champions.
Mohammad Shami is the last man in for India
India 165/9
OUT! 9th down for India. It was full and Axar Patel trying to hit over covers gets an outside edge and Bell takes another good catch at slips. Third wicket for Steven Finn.
Mohit Sharma is the no. 10 batsmen for India
India 164/8
Ravindra Jadeja c Finn b Broad 5 (9)
OUT! Horrible cricket from Jadeja. Broad banged this one short as Jadeja jumped down the track, he wasn't in any position to play the pull, gets a top-edge and it's a simple catch to Finn at mid-on
Axar Patel comes to crease
India 164/7
MS Dhoni lbw b Anderson 17 (32)
OUT! Loud appeal for lbw and umpire raises his finger. Pitched up around the off-stump channel by Anderson and held its line, the ball didn't bounce as much as he expected. The ball raps Dhoni on the pads, and he walks away with an intense look at the pitch. Massive blow for India.
India 157/6 after 40 overs
Dhoni 14 (20), Jadeja 1(1)
A sheer batting collapse for India. From 83/1 they are down to in just 20 overs and only 23 runs scored in the batting powerplay with the loss of two wickets. India cannot see their place in final from here. Dhoni is taking few chances and scored couple of boundaries.
Ravindra Jadeja is in at no. 8
India 152/6
Stuart Binny c Bell b Finn 7 (12)
OUT! Outside edge and gone! Pitched outside off, simple catch to Ian Bell at 1st slip.
Stuart Binny comes in at no. 7
India 136/5
Ajinkya Rahane c Buttler b Finn 73 (101)
OUT! Rahane is a goner. It was pitched outside off and was the slower ball with extra bounce by Finn, Rahane edges it to the keeper Jos Buttler. India are falling apart here once again.
India have taken the batting powerplay
India 111/3 after 35 overs
Rahane 72 (99), Dhoni 0 (5)
India are dawdling along. But having said that, credit to England for not drifting away from their gameplan. They have rarely bowled a loose ball and Moeen Ali has been outstanding once again. He hasn't helped India's cause that Kohli and Raina perished to ill-advised lofted strokes before Rayudu was dimissed by Broad. Rahane is battling along and is the key to India getting a defendable total on a not-so-easy batting wicket.
MS Dhoni walks in at no. 6
India 134/4
Ambati Rayudu c Buttler b Broad 12 (17)
OUT! Another edge and another wicket for England. Pitched outside off. It stays too close to Rayudu's body who tries to cut but gets an edge to Buttler. Broad gets his man.
India 111/3 after 30 overs
Rahane 58 (89), Rayudu 3 (2)
Indian batsmen are in a panic situation now. First Kohli and Raina threw their wickets away to Moeen Ali after playing unnecessary shots. Rayudu looked for a single but Rahane sent him back and Rayudu had to dive full length to save his wicket. A direct hit would've seen the end of him. Confusion between the duo, but all is safe in the end. 28 runs in last 10 overs with 3 wickets, India have given away the good start once again.
Ambati Rayudu comes in at no. 5
India 107/3
Suresh Raina c Woakes b Ali 1 (5)
OUT! Raina is a goner now. Raina goes for a big on the off side gets an outside edge to Chris Woakes at backward point. Moeen Ali gets his second. Raina has simply thrown his wicket away.
Suresh Raina comes in at no. 4
India 103/2
Virat Kohli c Root b Ali 8 (19)
OUT! Gone! Virat tries to go straight over the bowlers head and Root takes a good catch at long-off running to his right.
India 95/1 after 25 overs
Rahane 50 (71), Kohli 4 (14)
Just as when India were looking to set up a big opening stand, Shikhar Dhawan was dimissed to Woakes in the first ball of his second spell. Virat Kohli came in at no. 3 replacing Rayudu. That is the perfect spot for him. Rahane and Dhawan have given India a steady start. It is upto Kohli now to capitalize on it as Rahane gets his 8th ODI fifty. Woakes struggled with a pain in right wrist after he was struck with the ball played straight to him by Kohli.
So no Ambati Rayudu at no. 3 as Virat Kohli is in now
India 83/1
Shikhar Dhawan c Buttler b Woakes 38 (65)
OUT! Edged and gone! Wicket on the first ball for Chris Woakes in his 5th over. Short and wide outside off, Dhawan went for the cut shot but the ball kept a bit low and found the cue end of the bat, good low grab to his left by Buttler.
India 83/0 after 20 overs
Rahane 43 (56), Dhawan 38 (64)
A tentative and a bit fortunate start from India, a reasonably good opening partnership after a long time to reach to 83/0. This isn't an easy pitch to bat on. Uneven bounce on offer and both Dhawan and Rahane have had their fair share of luck. Dhawan should've been run out in the opening over of Woakes, while Rahane has played the lofted shots and got it in the vacant areas.
India 61/0 after 15 overs
Rahane 29 (40), Dhawan 31 (50)
Good start for India. Dhawan and Rahane are up with a half century partnership for the first time in series. That is what India needed. They are just tightening their screws on England. Good quality strokes played by the openers. However Dhawan survived a huge lbw appeal by Finn but it was pitched outside leg.
India 34/0 after 10 overs
Rahane 20 (31), Dhawan 13 (29)
Dhawan is into the score of double figures for the first time in the series and Rahane at other end has taken some chances against Anderson but he was unable to put that off behind the boundary line. A slow and strady start for India in the conditions against them. It is the first time in the series that India have not lost a wicket inside the first 10 overs.
India 9/0 after 5 overs
Rahane 4 (13), Dhawan 5 (17)
Chris Woakes and James Anderson started the proceedings for England. Both the bowlers are getting good bounce upto the batsmen shoulder but so far they've played them well. Trying to get a cheeky single, Dhawan survived a run out chance when Woakes missed a direct hit. Overall the opening duo has been running good between the wickets and they should continue with that.
Rahane takes the strike and James Anderson gets ready to bowl with two slips in place.
Eoin Morgan is leading his players on to the field and Indian openers Shikhar Dhawan and Ajinkya Rahane are making their way to the middle as well.
England (Playing XI): Ian Bell, Moeen Ali, James Taylor, Joe Root, Eoin Morgan(c), Ravi Bopara, Jos Buttler(w), Chris Woakes, Stuart Broad, James Anderson, Steven Finn
India (Playing XI): Shikhar Dhawan, Ajinkya Rahane, Ambati Rayudu, Virat Kohli, Suresh Raina, MS Dhoni(w/c), Stuart Binny, Ravindra Jadeja, Axar Patel, Mohammed Shami, Mohit Sharma
It will be really tough for Indian batsmen to come first and score runs because the pitch will be dominated by the pace and bounce England bowlers have. They need to bat till 50 overs and set up a good total on the board.
India captain MS Dhoni wanted to bowl first as well. Ishant is not fit and Mohit Sharma will come in his place.
England have won the toss and chose to bowl first. They are coming on with an unchanged side.
The pitch looks very hard with lot of grass and its a typical WACA pitch which is known to favor the fast bowlers. This is a pitch for the bowlers and not for the batsmen but if the bowlers lose their way and bowl short, the game might slip away from them.
England's opening pair looks settled with Ian Bell and Moeen Ali scoring runs, the former going onto score a ton against Australia. Joe Root looked good in the previous game and even the skipper Eoin Morgan has a hundred to his name in the series. The bowling looks sharp with the back-to-form Steven Finn and James Anderson leading the attack. The only concerns are the No.3 slot occupied by James Taylor and the form of Stuart Broad going into the World Cup.
The move to bat Kohli at No.4 has already come under the scanner. MS Dhoni defended the move once again and stressed that inexperience in the ranks of the lower middle order has forced Kohli to bat one step down in the order. The bowling will be boosted with the return of Ishant and Jadeja, who were named in the XI for the previous game
After the previous game between Australia and India was abandoned, this match becomes a virtual semi-final. India are yet to win a game on the tour and if they win this, they will be playing Australia on Sunday in the final.
However, there are a few things that are worrying the Indian team management. The woes of the top-order continue, Dhawan can't seem to score a run and Rahane has thrown it away after getting a couple of starts. With Rohit being injured, Rayudu gets a longer run to prove his credentials in the side.
Failing to register a win in the league stage so far, the Indian bowlers were unable to defend their 267 runs in their first match, while the team was shot for 153 in the second game against England.
Lucky to share two points with Australia, who are awaiting their opponents in the final, in the washed off game in Sydney, the Mahendra Singh Dhoni-led side will not only try to address its bowling worries but also try to pull up its batting socks.