Latest Updates: Tri-series 3rd ODI, England beat India by 9 wickets
Brisbane: Jolted by the opening loss to Australia, India would look to plug the bowling loopholes and ensure a stronger batting display when they take on England in their second ODI tri-series cricket match here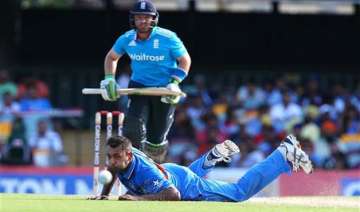 India TV Sports Desk
January 20, 2015 14:36 IST
Brisbane: Jolted by the opening loss to Australia, India would look to plug the bowling loopholes and ensure a stronger batting display when they take on England in their second ODI tri-series cricket match here Tuesday.
India's batting looks a worry. The decision to send Kohli at No.4 has not worked as the batsman has failed to get going in both the matches played so far. The time is also ticking for Dhawan, who has still not got it right, on the tour. The only positive for India in today's game was Stuart Binny, the all-rounder contributed with both bat and ball and justified his selection. Apart from that, it was another poor outing for the Indians.
The match was set-up beautifully for England by Steven Finn and James Anderson. The latter was excellent with the new ball, he got it to shape both ways and bowled tight lines. Finn, on the other hand, generated extra bounce and made good use of a fast Gabba wicket, he got his maiden ODI 5-fer.
England cruise to a comfortable win, they also gain the bonus point. Once India were bowled out for 153, they were always playing catch-up. Even though Moeen Ali went cheaply, Ian Bell and James Taylor ensured that England did not stutter in the run-chase. Both batsmen got to their fifties and were involved in a 131-run stand. Bell was exceptional in his stroke play and this knock should give him confidence after getting out for a first ball duck against Australia.
England beat India by 9 wickets
England 154/1 after 27.2 overs
Bell 88 (91), Taylor 56 (63)
Ian Bell and James Taylor have taken England home with a century partnership. After Ian Bell, Taylor gets his 3rd half century as well. Both the batsmen ripped apart the Indian bowlers who were struggling with their line and lengths. A comfortable victory for England with a bonus point.
England 111/1 after 20 overs (43 runs to win)
Bell 65 (64), Taylor 36 (45)
Ian Bell after brilliant 187 against PM's XI in a warm-up game brings up his 32nd ODI half-century, his first in 9 innings. Both the batsmen out there are having no problem in finding the gaps for the boundaries. Indian fielding have been a bit sloppy as well.
England 81/1 after 15 overs (73 runs to win)
Bell 46 (45), Taylor 25 (34)
England are scoring well above the run rate of 5 and need just 2 runs per over to win the match. Bell-Taylor are up with a half-century partnership and are cruising over India.
England 67/1 after 10 overs (87 runs to win)
Bell 40 (30), Taylor 17 (19)
Bell and Taylor are steady at the crease after the early dismissal of Moeen Ali. They have crossed the half-century mark and looking good to earn a bonus point win.
Two slips in place as Binny continues..with Taylor on strike
India have a session to forget here. They just need a miracle to make a comeback in the match.
----------------------------
Excellent start from England, although they lost Moeen, lobbing Binny to mid-off. The seaming all-rounder did his bit, but the other two specialist pacers were a big let-down. Bell is looking in ominous touch and England need just another 113 runs to complete a crushing victory.
DINNER BREAK
England 41/1 after 6 overs
Bell 28 (19), Taylor 3 (6)
England are off to a brilliant start but Moeen Ali while trying a big shot found Kohli at mid-off. A couple of good deliveries were bowled by Umesh Yadav but they need more of that. He and Bhuvi have been expensive so far in the 6 overs. England are clearly playing for a bonus point here. That's break here at Brisbane.
England 25/1
James Taylor is in at no. 3
Moeen Ali c Kohli b Binny 8 (12)
OUT! Binny stikes. Moeen Ali goes for a big one. He hits right from the toe of the bat. Kohli takes an easy catch at mid-off.
Bell and Moeen Ali are at the crease. Bell is on strike. Binny will open the attack
Welcome back! England are about to begin their chase.
------------------------------------
Things unravelled after India took the batting powerplay. Dhoni fell, gloving a pull to the keeper. Axar Patel fell first ball and left with the number 10, Binny played one shot too many and perished. On the bowling front, it was the Finn and Anderson show.
Kohli fell in the same way as he had during the Test series, nicking off Finn. The bowler then had Rayudu, caught at the wicket, but before that Raina had danced down the track to Moeen and was comprehensively beaten. Dhoni and Binny steadied the innings, both played their shots, but were circumspect in equal measure as well.
A sensational performance from England's bowlers. They kept things tight right from the start, didn't give the batsmen much room to play their shots. Dhawan perished early, once again unable to combat the swing. Rahane and Rayudu scratched together a fifty run stand. Both didn't look convincing, but just when India seemed to have weathered the storm, Rahane threw his wicket away, mistiming his shot to mid-on.
India 153 all out after 39.3 overs
England are all over India like a rash, Binny stood alone at the other end, falling short of partners. He decided to play his shots and also smashed Finn for a huge six but after surviving two caught behind appeals off Finn he finally fell down to Anderson and Shami followed him right after, thus finishing the innings for a mere 153.
Umesh Yadav 0 (0)
Mohammad Shami c Ali b Anderson 1 (7)
OUT! India are all out! Caught by Moeen Ali at deep mid wicket!! India have been bundled out for just 153. Length ball from Anderson, Shami made room and sent it sailing high and over mid-wicket.
Umesh Yadav is the last man in
India 153/9
Stuart Binny c Morgan b Anderson 44 (55)
OUT! Binny came down the track to a scrambled seam delivery, was looking to go over mid-off, doesn't get hold of the shot, gets plenty of height. Morgan runs back from mid-off, keeps his eyes on it completely and takes a well judged catch even as he tumbled onto the ground.
Mohammad Shami is in at no. 10
India 143/8
Bhuvneshwar Kumar b Anderson 5 (5)
OUT! Anderson strikes again. It was straight and full banged on to the top of off-stump.
Bhuvneshwar Kumar comes in at no. 9
India 137/7
Axar Patel b Finn 0 (1)
OUT! Bowled! First five wicket haul for Steven Finn. Second successive duck for Patel, fifer for Finn. India are in huge trouble now. Finn came from round the wicket and gets this one to nip back into Patel, he was half forward and might have got a slight inside edge as well, the ball went on to hit the top of middle and leg.
Axar Patel is in at no. 8
India 137/6
MS Dhoni c Buttler b Finn 34 (61)
OUT! Finn strikes again! The dropped chance doesn't cost England anything. This was banged in short and on the stumps, Dhoni shuffled across on the pull, just about feathers a glove through to the keeper.
Anderson dropped caught and bowled chance off Dhoni in his follow through. He gets his left hand touched to that but the ball pops out.
India 136/5 after 35 overs
Dhoni 33 (54), Binny 37 (47)
A decent comeback for India, Dhoni and Binny are taking some sort of control back after India were reduced to 67/5, still plenty of work ahead though. These two have now added 69 runs together for 6th wicket. They decided to take the batting powerplay one over before it was due.
India 113/5 after 30 overs
Dhoni 22 (35), Binny 25 (36)
Dhoni and Binny are taking their time to get settled. Meanwhile Stuart Binny scored three back to back boundaries off Chris Woakes and brought some relief to the Indian side but they still have a lot of work to do.
India 89/5 after 25 overs
Dhoni 16 (23), Binny 8 (18)
Dhoni and Binny are left with lot of repairing job to do. They need a good partnership in order to settle for a decent total. Dhoni will be the key player here as he is striking the ball well.
India 69/5 after 20 overs
Dhoni 3 (8), Binny 1 (3)
Terrible start for India. They scored just 12 runs and lost three wickets of Kohli, Raina and Rayudu in a heap. They are five down with Dhoni and Binny on strike now. England bowlers are really charged up.
Stuart Binny is in at no. 7
India 67/5
Ambati Rayudu c Buttler b Finn 23 (53)
OUT! Five down for India. Bouncer once again. Rayudu looks to cut but gets an inside edge to Buttler. Third wicket for Finn and half of India's side are back in pavilion.
Indian captain MS Dhoni walks in next
India 65/4
Suresh Raina st Buttler b Ali 1 (3)
OUT! another wicket. Moeen Ali strikes! Raina was down the pitch much before the ball was released. Buttler had enough time to whip off the bails.
Suresh Raina comes in at no. 5
India 64/3
Virat Kohli c Buttler b Finn 4 (8)
OUT! Another wicket for Finn. Extra bounce did the trick once again. Kohli tries to dab it to third man but gets a thickish outside edge to Jos Buttler. He walks away disappointed.
Some problems here for Rayudu. He has taken his shoe off and is pointing towards his toe. He looks in pain and the physio is out there to check it out. He might have twisted his ankle while running. Meanwhile the umpires called for DRINKS.
India 58/2 after 15 overs
Rayudu 21 (45), Kohli 0 (0)
Just as when both the Indians were getting momentum after a half-century partnership, Rahane goes down the pitch for a biggie but failed and Taylor took a simple catch at mid-on. India once again losing it from the beginning.
Virat Kohli is in at no. 4
India 57/2
Ajinkya Rahane c Taylor b Finn 33 (40)
OUT! Rahane is a goner. Extra bounce for Finn and Rahane tries to go big getting down the pitch. He mistimes it and hangs it on to James Taylor at mid-on who runs back and takes a good catch.
India 36/1 after 10 overs
Rahane 26 (31), Rayudu 6 (24)
A wicket early and India are on the backfoot right from the beginning. Anderson has completed his five and conceded just 11 with two maidens. Unsteady start for Indian batsmen and they need to be more careful. They do not have the man in form Rohit Sharma in the line up. Rahane will be the key in India's innings. He scored the first maximum off Stuart Broad. Rayudu at the other end is struggling.
India 8/1 after 5 overs
Rahane 4 (14), Rayudu 1 (11)
James Anderson provided England their first major breakthrough after dismissing Shikhar Dhawan for 1. The Indian opener has yet another failure and got out in a similar fashion like against Australia. To everybody's surprise Ambati Rayudu comes in at no. 3 in place of Kohli. The pressure is building up on Indian batsmen now.
Ambati Rayudu is in at no. 3
India 1/1
Shikhar Dhawan c Buttler b Anderson 1 (5)
OUT! Anderson strikes and another failure for Shikhar Dhawan. Good length outside off and Dhawan gets a thick edge to the keeper.
Rahane takes the strike first and James Anderson to bowl with two slips in place.
Indian openers Shikhar Dhawan and Ajinkya Rahane are walking upto the middle. So are the England players and the two umpires.
India (Playing XI): Shikhar Dhawan, Ajinkya Rahane, Virat Kohli, Ambati Rayudu, Suresh Raina, MS Dhoni(w/c), Stuart Binny, Axar Patel, Bhuvneshwar Kumar, Mohammed Shami, Umesh Yadav
England (Playing XI): Ian Bell, Moeen Ali, James Taylor, Joe Root, Eoin Morgan(c), Ravi Bopara, Jos Buttler(w), Chris Woakes, Stuart Broad, James Anderson, Steven Finn
For England, James Anderson is in for Chris Jordan. Skipper Morgan says that he wanted to bat first as well but they would look to bowl well against India.
Two changes for India. Ambati Rayudu comes in for Rohit as he has a sore hamstring and sits out while Stuart Binny comes in for Ravichandran Ashwin. Also Mohammad Shami is fit to play. This means Rahane will open with Dhawan.
India have won the toss and have opted to bat
The pitch report says it's a rock hard pitch. There will be a fair bit of bounce and the fast bowlers will enjoy the day but they need to get their line and length right. India might want to chase on but it's quite a batting track today.
The weather in Brisbane has been erratic from the last couple of days. It was pouring last night and we have a 90% chance of rain today. However, the good news is that it is sunny right now. There might be a few showers later but let's hope we get a full game. Toss and teams coming up in a few minutes.
Two bowlers played a key role in squeezing the run-rate, Bhuvneshwar Kumar and Axar Patel. It was quite a positive for the Indian team, reeling under the inconsistency shown by their attack in the preceding Test series.
India can take some solace from their match against Australia in the sense that they pushed the hosts a lot closer.
In Brisbane, both sides will be looking to register their first win in this tournament with the hosts having stolen a march on them with two successive wins.
Australia beat England by three wickets in Sydney on Friday and then beat India by four wickets in Melbourne on Sunday.
Both England and India lost their opening match to Australia in the tri-series and today they will be against each other to make a comeback.