Latest Updates: Tri-series, play called off, India, Australia split points
Sydney: Rain interrupted fifth game of the Tri series between India and Australia has been called off Mondya. Only 16 overs were bowled when play had to be stopped.The umpires inspected the conditions and decided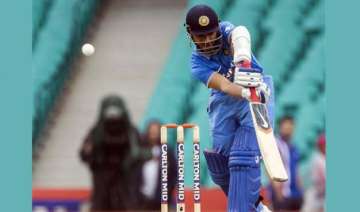 India TV Sports Desk
January 26, 2015 15:10 IST
Sydney: Rain interrupted fifth game of the Tri series between India and Australia has been called off Mondya. Only 16 overs were bowled when play had to be stopped.
The umpires inspected the conditions and decided to call it off.
Australia and India will take two points each from this game. Australia were already through to the final, and India are now trailing England by three points. If England beat India in Perth, they are through. If India beat England, India are through. If points are shared, England are through. Simple.
Rain halted the ODI tri-series clash between India and Australia with the former 69 for two in 16 overs at the Sydney Cricket Ground (SCG) here Monday.
Rain had earlier delayed the toss due to which the match had to be curtailed to 44 overs each.
Opener Ajinkya Rahane (28) and Virat Kohli (3) were the two unbeaten batsmen at the crease.
Shikhar Dhawan (8) and Ambati Rayudu (23) were the batsmen dismissed with Mitchell Starc and Mitchell Marsh amongst the wickets for Australia.
Earlier Australian captain George Bailey won the toss and sent India in to bat in the fifth One-Day International (ODI) of the tri-series at the Sydney Cricket Ground here Monday.
Game started late due to rain but again had to be stopped as it again started raining.
Since India has already played 15 overs, match could further be reduced to 20 ovesr a side if need be.
The rain is back. Covers have been brought on in a jiffy. India 69/2
India 66/2 after 15 overs
Rahane plays a pull shot, keeping it on the ground, gets a single
Faulkner comes in to the attack, replacing Marsh
India 64/2 after 14 overs
Virat Kohli now in the middle with Rahane
India 62/2 after 13 overs
Rayudu made 23 runs
Rayudu tries the same shot but this time Warners takes a brilliant catch running behind
Rayudu OUT
Marsh again bowls a short pitched delivery, Rayudu guides it over the slip for FOUR
Marsh bowling to Rahane, plays it down to point, 1 run
India 56/1 after 12 overs
Doherty bowling to Rayudu,  it stops a bit, Rayudu lucky it just went a bit wide of Dohert who tried to catch it
Doherty replaces Hazelwood
India 52/1 after 11 overs
Marsh again bowls a shor, Rayudu lets it go
Marsh bowls a bouncer to Rayudu, umpires signals a wide as it was above the shoulder
M. Marsh bowling to Rahane, he pushes it towards mid on, 1 run
India 45/1 after 10 overs
Hazlewood to Rahane, 1 run, strays on to the pads, Rahane tucks it behind square for a single
India 41/1 after 9 0vers
Marsh to Rayudu, SIX
India 32/1 after 8 overs
Hazlewood to Rayudu, FOUR, this one goes over the infield! Rayudu moves towards the off side, gets slightly forward and uses the angle into him to lift the full ball over mid-on
India 26/1 after 7 overs
Rayudu joins Rahane who is playing on 13
Dhawan stayed rooted to his crease as the ball bounced a bit extra from a good length just outside off. He made just 8 runs
Dhawan OUT
India 24/0 after 6 overs
Dhawan too steals a single. Dhawan has a weakness of playing at deliveries going out isde the off stump and that usually has cost him his wicket 
Rahane steals a single off Hazelwood, taps a ball near backfoot, Dhawan responds well
India 18/0 after 5 overs
Mitchell Starc keeping a good line and length
Match has been reduced to 44 overs a side
India 12 after four overs
Rahane flicks Hazelwood for a single towards fine leg, follows it with a glance that results in FOUR
Hazelwood bowls a yorker, Rahane does well to dig it out
3:0 : India 6/0
play resumes after it stopped due to rain, India 6/0, 2.4 overs
Its drizzling again, covers have come up
Rahane goes for a big one, gets a thick edge, gets a single
Dhawan takes a single off Starc, opens his account
2:0 : India 4/0
Beaten, Rahane tried to play a defensive shot
Appeal for LBW, turned down, height may be the factor
Hazelwood bowls a wide, going down the leg side, even second too is a wide
Hazelwood bowling to Rahane
1:0: India 1/0
Ajinkya Rahane and Shikhar Dhawan open inning for India
Ravindra Jadeja and Ishant Sharma come in for Umesh Yadav and Bhuvneshwar Kumar
Australia won the toss decided to field