Lift Ban On Azhar, Demand Congress MPs
A group of Congress MPs on Friday met International Cricket Council vice-president Sharad Pawar and demanded that the lifetime ban on former Team India captain Mohammed Azharuddin be lifted immediately.  Azharuddin is presently the Congress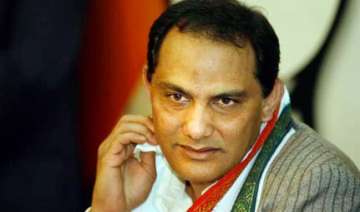 PTI
November 21, 2009 15:02 IST
A group of Congress MPs on Friday met International Cricket Council vice-president Sharad Pawar and demanded that the lifetime ban on former Team India captain Mohammed Azharuddin be lifted immediately. 
Azharuddin is presently the Congress MP from Moradabad. The Congress MPs argued that most other international cricketers accused of matchfixing have been accepted back in the fold of cricket, but the ban on Azharuddin has not been lifted. 
Azharuddin is fighting his case in a court of law. The Congress MPs including Rajiv Shukla, Jitin Prasada, Raj Babbar, Sanjay Singh and Praveen Singh Aaron, all from UP, were led by party general secretary Digvijay Singh, when they met Pawar. 
Says Digvijay Singh: "Azharuddin is one of our finest cricketers and the ban should not be there any more". 
The Congress MPs say that reprieve for Azharuddin is due as cricket boards of other countries like Pakistan, South Africa, Kenya and West Indies have either withdrawn the ban or let off their cricketers lightly after being suspected for involvement in matchfixing in 2000. 
Sharad Pawar, according to Hindustan Times, did not reject the request but said that the relief sought for Azharuddin would require a unanimous resolution at the BCCI annual general meeting. The BCCI had in a resolution blacklisted Azharuddin in 2000.
Of the four cricketers punished, only Azharuddin and Ajay Sharma remain out in the cold. Manoj Prabhakar served the five year ban and Ajay Jadeja won a court case in 2003 against which the BCCI did not appeal. 
BCCI spokesman Rajiv Shukla indicated that the BCCI in its next annual general meeting would take up this issue.
Azaharuddin, an elegant right-hand batsman from Hyderabad, played 99 Tests and scored 6215 runs at an average of 45. He played a whopping 334 one-dayers, accumulating 9378 runs at an average of 36.92.