Lucky to be a part of South African set-up, says Steyn
Kolkata, Apr 23: Star pacer Dale Steyn feels he is fortunate enough to be part of a strong South African side which has enabled him to produce his best in the past few years. "I'm lucky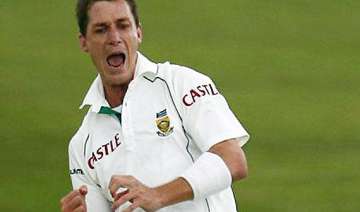 PTI
April 23, 2012 20:27 IST
Kolkata, Apr 23: Star pacer Dale Steyn feels he is fortunate enough to be part of a strong South African side which has enabled him to produce his best in the past few years. 

"I'm lucky to be part of the (Cricket) South African set up. They have great work ethics with some outstanding players. Jacques Kallis, Mark Boucher, coach Gary Kirsten... They are the legends of the game in South Africa.

"There are also very talented players like Hashim Amla, AB de Villiers. I'm just fortunate to be play alongside the great cricketers," said the 28-year-old speedster.

"I'm part of a great side so you develop a learning attitude. They are all inspirational cricketers."

The 28-year-old who is instrumental for South Africa's rise to the second spot in the Test rankings said there was no shortcut to success.

"It took a lot of hardwork to reach here. All cliche stuff... But that's the reality. It does not happen overnight. It took me about nine years to reach here. I've played two county seasons (for Essex and Warwickshire) in between... It does not happen fast."

The world's top bowler for last three years, Steyn however sees the ranking as just a number.

"I don't think I'm the best player ever yet. There maybe somebody else who is superior to me. It is just a number afterall. It does not change much on the field if you are the no 1 or no 100 bowler. It's just a recognition," Steyn, a big fan of Allan Donald said.