IPL verdict: SC bars Srinivasan from contesting BCCI polls; Meiyappan, Kundra charged of betting
New Delhi: The Supreme Court On Thursday barred N Srinivasan from contesting BCCI polls and observed that his son-in-law Gurunath Meiyappan and Rajasthan Royals franchise co-owner Raj Kundra are involved in betting.The court while announcing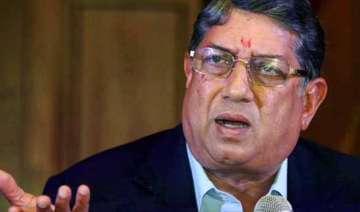 India TV Sports Desk
January 22, 2015 16:19 IST
New Delhi: The Supreme Court On Thursday barred N Srinivasan from contesting BCCI polls and observed that his son-in-law Gurunath Meiyappan and Rajasthan Royals franchise co-owner Raj Kundra are involved in betting.
The court while announcing the much-awaited verdict on Srinivasan's conflict of interest case said that BCCI functions are amenable to judicial review.
The court also said that no BCCI administrator can have commercial interests.
"​Amendment in BCCI rules allowing Srinivasan to own IPL team is bad as conflict of interest in cricket leads to great confusion" observed the Apex court in its 130 page judgement.
Earlier, A Bench of Justices T S Thakur and F M I Kalifulla on December 17 last had reserved its verdict on the matter in which several interim directions since August 2013 were passed including the setting up of the three-member committee headed Justice Mukul Mudgal, former chief justice of Punjab and Haryana High Court.
Srinivasan, his son-in-law Gurunath Meiyappan, Rajasthan Royals owner Raj Kundra, cricket administrator Sundararaman, were probed by the Justice Mudgal committee which had found "some misdemeanour by certain persons" and indicted them in the IPL 6 scam.