Mellowed Sreesanth augurs well for us: Dhoni
India captain Mahendra Singh Dhoni on Friday  described S Sreesanth as one of the best reverse swing exponents in contemporary cricket and said the Kerala speedster's mellowed down 'avatar' augurs well for the team. Back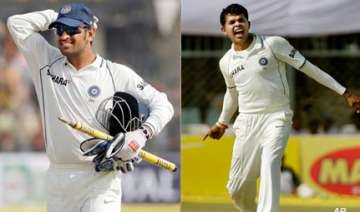 PTI
November 27, 2009 16:28 IST
India captain Mahendra Singh Dhoni on Friday  described S Sreesanth as one of the best reverse swing exponents in contemporary cricket and said the Kerala speedster's mellowed down 'avatar' augurs well for the team.
Back from 19 months of international wilderness, Sreesanth's five-wicket haul in the first innings pushed Sri Lanka into follow-on and India thumped the islanders inside four days to win the second cricket Test in Kanpur on Friday.
Dhoni was effusive in his praise for Sreesanth who seemed to have mastered his emotions that landed him in soup so many times in the past.
"He definitely has cut down (on his antics). Hopefully he would maintain that. As long as he does not cross the line, it's good not just for him personally but also for the team. He was aggressive but in a different way.
"He controlled his emotion and that is very important. Hopefully he will continue like this in future," Dhoni said of the pacer, whose past is littered with on-field brawls and frequent disciplinary hearings.
"Sree bowled really well. I don't think anybody expected a seamer to run away with a five-wicket haul but he did. Of course luck was on our side. We got a run out and some inside edges found the stumps. But he still came steaming in and bowled in good areas," Dhoni said. PTI