PCB did not handle Casino issue properly: Moin Khan
Karachi: Hurt by his recent ouster from the chief selector's post, former Pakistan   captain Moin Khan said that the the PCB could have handled the Casino incident during the cricket World Cup in a much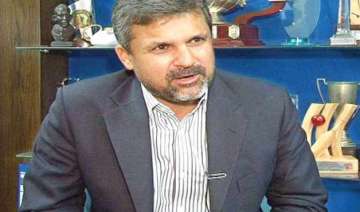 PTI
April 06, 2015 21:37 IST
Karachi: Hurt by his recent ouster from the chief selector's post, former Pakistan   captain Moin Khan said that the the PCB could have handled the Casino incident during the cricket World Cup in a much better manner.
The veteran of 69 Tests and 219 one-day internationals also complained that while the board had not believed and trusted him in what he had to say about the incident and the PCB sent out a wrong message by calling him back from the World Cup.
"There is no doubt this Casino scandal has tarnished my reputation and standing as a former captain and player," Moin admitted in an interview to 'Jang' newspaper.
It was his first interview in the media after being called back home from New Zealand post his Casino visit in Christchurch the night before the West Indies match.
Moin returned home to stinging criticism and protests and maintained a low profile since then.
The PCB announced last week, after Moin met with the board Chairman Shaharyar Khan in Karachi, that they had decided to end his contract and soon released him as chief selector - a post he held since last year.
"The incident really hurt my reputation and pride and caused problems for me and my family. But the way the media presented the matter negatively and played it up was very disappointing for me because all my career I had a unblemished career as player and captain," Moin said.
The former wicketkeeper-batsman said the Casino incident was presented wrongly to create sensation by the media and no one listened to him.
"It is not a crime to go and have food in a Casino or pose for some photographs with friends or fans in the Casino. The matter was not so big as it was made out to be.
The board should have trusted me and it didn't handle the issue properly. Calling me back sent out all the wrong signals.