IPL 8: Mumbai will look to capitalise on DD's home failures, says Shane Bond
New Delhi: With Delhi Daredevils on a nine-match losing streak at home, Mumbai Indians bowling coach Shane Bond said that the visitors will look to exploit on the opposition's shortcoming in the IPL match here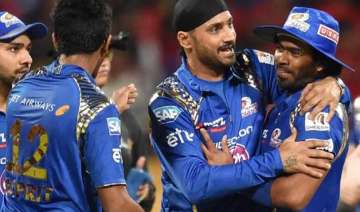 PTI
April 22, 2015 22:17 IST
New Delhi: With Delhi Daredevils on a nine-match losing streak at home, Mumbai Indians bowling coach Shane Bond said that the visitors will look to exploit on the opposition's shortcoming in the IPL match here on Thursday.
The fierce city rivals are locked at 5-all in their league encounters so far, but MI, who have just recorded a single win in five matches, have won quite a few games on DD's turf. Bond is indeed relishing the team's challenge.
"I think Delhi have struggled at home for a long period of time to win matches and we (Mumbai Indians) take confidence from the fact that we have done well (at Kotla) and have had success here," said the former New Zealand pacer on the eve of the match.
"But to be fair it's a pretty even contest. Delhi should have won their first two games, they won another couple of games, so we know that we will have to play well here to beat them and their leg-spinners present a different challenge for us as well," he added.
DD's Zaheer Khan may have missed the action so far, but Bond, who hung up his international bowling boots in 2010, still believes that the left-arm pacer's presence is a big boost for the side.
"Zak's a great player and whenever young players take the field with great players it gives them a boost. They get confidence that they have got a world class player in your line-up. So if he plays it's going to be big," the 39-year-old speedster said.
After four straight opening losses, MI finally crossed the line against Royal Challengers Bangalore. The Rohit Sharma-led side posted a mammoth 209 and won by 18 runs. Bond is hoping the team takes the momentum forward.
"I thought it was a really good performance considering that we played in parts but to put 210 against a good RCB side was a measure of composure within the team. The belief that we haven't had a good start given what happened last year and given the talent that we have in the squad, if we continue to play aggressively then we can pose problems as the tournament progresses.
"It's always nice to get that first win under the belt and looking forward to the next couple of games before we head home for a few games. It is important that we continue that momentum," he said.