Nehra Gets Grade B Contract, Irfan 'Erroneously' Left Out
The Indian Cricket Board rewarded in-form pacer Ashish Nehra by offering him a Grade B annual contract worth Rs 40 lakh. Delhi pacer Nehra, who made a fine comeback into the one-day squad after being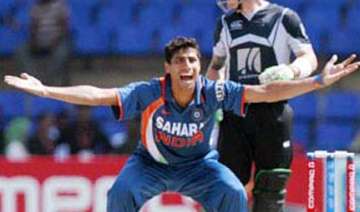 PTI
November 26, 2009 8:33 IST
The Indian Cricket Board rewarded in-form pacer Ashish Nehra by offering him a Grade B annual contract worth Rs 40 lakh.
Delhi pacer Nehra, who made a fine comeback into the one-day squad after being in the wilderness, did not have a BCCI contract in the previous year.
Uttar Pradesh pacer Praveen Kumar also benefited in the new contracts announced on Wednesday by the BCCI for 40 players as he got a boost from Grade C (Rs 25 lakh) to B.
The Board retained the same nine as last year in Grade A which is worth Rs 60 lakh.
India captain Mahendra Singh Dhoni and champion batsman Sachin Tendulkar, in his 21st international season, were expectedly given Grade A contracts along with Rahul Dravid, VVS Laxman, Virender Sehwag, Gautam Gambhir, Yuvraj Singh, Zaheer Khan and Harbhajan Singh.
Tamil Nadu batsman S Badrinath, who was surprisingly given Grade B contract for the 2008-09 period despite having played only a few ODIs, was downgraded to Grade C.
The Board's Gradation Committee met recently to finalise the contracts, BCCI secretary N Srinivasan said.
Irfan's name erroneously left out
The Indian Cricket Board on Wednesday created a flutter by inadvertently leaving out struggling all-rounder Irfan Pathan from the list of contracted players for the 2009-10 season.
While releasing the 40 names who were offered contracts for the period October 1, 2009 to September 30, 2010, the Baroda player's name was left out by BCCI secretary N Srinivasan in a media release.
Within an hour, Srinivasan issued a clarification that Irfan's name was "erroneously left out of the Retainership list that was sent to the media earlier today", adding "he is part of the list, and figures in Grade C". The inclusion of Irfan's name from the list took the number of players given contracts to 41.