Not shocked by loss, impressed with team's character: Kohli
Mirpur (Bangladesh): His team is on the verge of being knocked out of the Asia Cup after back-to-back losses but India's stand-in skipper Virat Kohli said he is not at all shocked by the prospect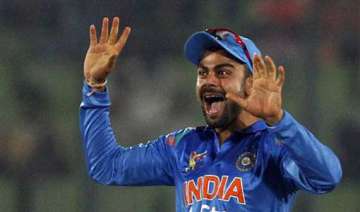 PTI
March 03, 2014 13:01 IST
Mirpur (Bangladesh):
His team is on the verge of being knocked out of the Asia Cup after back-to-back losses but India's stand-in skipper Virat Kohli said he is not at all shocked by the prospect as his side is massively inexperienced even though it has shown "character".     
I
ndia have lost consecutive matches to Sri Lanka and arch-rivals Pakistan in the five-team event and are all but out of contention for a spot in the final.     
"I'm not shocked at all. I'm really proud of the way the boys fought it out. I'm really proud of the way the team showed character in the field and with the bowling as well.
245 against a team like Pakistan and on that wicket with the dew is not easy to defend, but I think the guys showed a lot of character," Kohli said after the one-wicket loss to Pakistan here.     
The defeat was crushing for the fact that India could have nailed it had it not been for successive sixes struck by Shahid Afridi in the final over of the game.     
"If you see the kind of batsmen they had and our bowlers with the inexperience they had, still to put up that kind of fight. I mean you see (Amit) Mishra, he gave only 28 runs in 10 overs, took two wickets, bowled brilliantly against the likes of Misbah, Hafeez, Umar Akmal, Shahid Afridi. So I think it was a commendable effort and I'm really, really proud of the way the guys fought it out," Kohli said.     
"If you compare the experience of our team with their team, it's massive, it's huge. And in International cricket it really counts a lot. You can get away with it in Twenty20, but in the 50-over format you need to show a lot of character and that's exactly what the boys did," he added.     
Defending a modest 246, Indian bowlers, particularly Mishra (2/28 from 10 overs) and R Ashwin (3/44), took the match to the wire and Pakistan were left needing nine runs off the last four balls with one wicket in hand.