NZ vs SL: Sri Lanka all out for 276 in 4th ODI vs New Zealand
Nelson, New Zealand: Veteran batsmen Kumar Sangakkara, Mahela Jayawardene and Tillakaratne Dilshan combined to propel Sri Lanka to 276 after it batted first Tuesday in the fourth one-day cricket international against new Zealand.Jayawardene top-scored with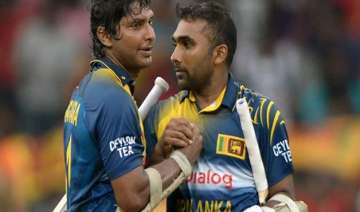 India TV News Desk
January 20, 2015 7:42 IST
Nelson, New Zealand: Veteran batsmen Kumar Sangakkara, Mahela Jayawardene and Tillakaratne Dilshan combined to propel Sri Lanka to 276 after it batted first Tuesday in the fourth one-day cricket international against new Zealand.
Jayawardene top-scored with 94, his 77th half century in 438 internationals, to drive Sri Lanka's scoring rate through the second half of the innings.
Sangakkara made 76, his 92nd one-day half century, and paced the innings through its first 33 overs. In doing so he moved into third place behind Sachin Tendulkar and Ricky Ponting on the all-time list of run scorers in the 50 overs game, overtaking compatriot Sanath Jayusuriya.
Dilshan made 44 and shared a 102-run partnership with Sangakkara which had Sri Lanka on target early for a score in excess of 300.
Fast bowler Adam Milne dismissed Sangakkara and captain Angelo Mathews — who won the toss — with consecutive balls in the 34th over to arrest Sri Lanka's scoring rate before Jayawardene restored some momentum with his 94 from 82 balls.
He committed the minor sin of not staying to the end, falling in the 46th over when Sri Lanka was 253-6 and when he was only one shot from his 19th one-day international century which, for a long time, had seemed both inevitable and deserved.
Milne took 2-28 from seven overs before leaving the field to receive treatment on a side strain.
Milne's injury didn't appear serious but would still have generated concern in the New Zealand camp because, while the 22 year old has played only 14 one-day internationals, he has already made himself integral to their World Cup campaign.
Sri Lanka's innings on Tuesday demonstrated just how the veterans in its lineup — Dilshan at 38 and Sangakkara and Jayawardene who are both 37, players who have among them 1,135 one-day matches — are again the key figures in its bid for another World Cup.
Only opener Dimuth Karunaratne failed when he was out for 5 and his place at the top of the order in the World Cup may now be under threat.
Sangakkara reached his half century from 47 balls, propelling the innings along with seven fours and a six. Jayawardene took 55 balls to reach 50, attaining that milestone with a lofted drive for six off Kane Williamson.
Both players produced superb stroke play, using their lofted shots well. But a succession of Sri Lanka batsmen perished to catches at extra cover, apparently deceived by the slower pace of the pitch.