Only Sri Lanka Can Lose From Here: Gambhir
With a staggering 576 runs in the arrear, there is only one team which can lose the second Test and it's Sri Lanka, believes star India opener Gautam Gambhir. Resuming on 417 for two, India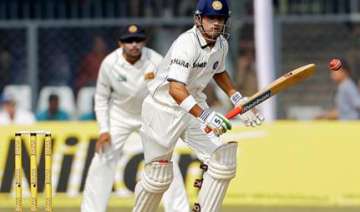 PTI
November 25, 2009 20:00 IST
With a staggering 576 runs in the arrear, there is only one team which can lose the second Test and it's Sri Lanka, believes star India opener Gautam Gambhir.
Resuming on 417 for two, India lost last six wickets for 29 runs to settle for a 642-run first innings total and Gambhir said it was enough to put the Lankan under the kosh.
"I'm absolutely satisfied with the score," said the in-form left-hander who hit a sublime 167 and starred in a blistering 233-run opening stand with Virender Sehwag yesterday.
"Batting second, 650 would be a difficult score to chase. The way wicket has started behaving, stroke-making would be difficult for the Sri Lankans if we stick to our plan. From here, only one team can lose the match and it is Sri Lanka, if we bowl well," said Gambhir.
"We have seen the last session and I think if we can bowl well, there can would be result. When we first saw the wicket, we knew something would happen even though we didn't know what. The wicket will further deteriorate and if we can bowl in the areas we should, we are the favourites in this match," he explained.
Gambhir took heart from Rangana Herath's five-for and said it augured well for the Indian spinners too.
"That is good news for us. The wicket will get only tougher and shot-making would be difficult. To chase 650 you have to first score those 450 runs to avoid follow on and 450 is lot of runs on this track," added Gambhir.
The opener felt Mahendra Singh Dhoni won an important toss, for it would have been hazardous to bat in the fourth innings against a Sri Lankan team which had three spinners -- Herath, Muttiah Muralitharan and Ajantha Mendis -- in their ranks.
"It was a good toss to win. We could bat the first two days on a flat track when the pitch had virtually nothing for the bowlers. And now it is showing signs of turns and would deteriorate further.
"They have three spinners and it is good that we would not be batting in the fourth innings," he said.
Gambhir hit his fourth Test century in as many Tests, prompting Virender Sehwag to call him the best opener India had after Sunil Gavaskar.
Asked about the secret of his golden run over the last 18 months, Gambhir said, "I have not changed my approach. I think it's because I feel more secure now. I have been having this feeling since winning the (2007) Twenty20 World Cup and the confidence I got from my captain, coach and my teammates," he said. PTI