Pakistan one of the favourites to win the World Twenty20: Wasim Akram
Karachi: Legendary Pakistan paceman Wasim Akram thinks Pakistan is one of top three favourites to win the World Twenty20 starting in Bangladesh next week."For me Pakistan, India and the West Indies are top three favourites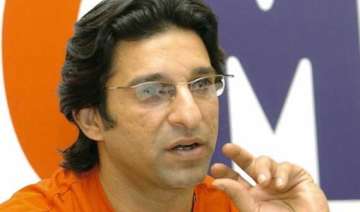 India TV Sports Desk
March 15, 2014 20:54 IST
Karachi: Legendary Pakistan paceman Wasim Akram thinks Pakistan is one of top three favourites to win the World Twenty20 starting in Bangladesh next week.
"For me Pakistan, India and the West Indies are top three favourites as they play this format well and have enough experience at their disposal," Wasim said in function here.
Wasim said Pakistan must enter the event with a positive frame of mind.
"Pakistan had a very balanced squad and all they need to do is to enter the event with a positive frame of mind," said Wasim.
Wasim said an Indo-Pak match will be an ideal kick off to the main round.
"What else do you want as an opening match," said Wasim, who will be commentating on the event.
"Whenever Pakistan and India play, millions watch the game and there are no favourites in that match."
The fifth edition of the World Twenty20 with 16 teams in competition will be held in from March 16 to April 6.
India won the inaugural World Twenty20 held in South Africa in 2007 while Pakistan won the second edition held in England two years later.
The West Indies will defend the title they won in Sri Lanka in 2012.