IPL 8: Pollard puts on sellotape in mouth after umpire's rap
Bengaluru: In a bizzare incident, Mumbai Indians all-rounder Kieron Pollard on Sunday put on a sellotape on his mouth after the umpires rapped him for his onfield altercation with fellow West Indian and Royal Challengers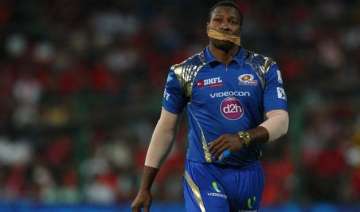 PTI
April 19, 2015 23:29 IST
Bengaluru: In a bizzare incident, Mumbai Indians all-rounder Kieron Pollard on Sunday put on a sellotape on his mouth after the umpires rapped him for his onfield altercation with fellow West Indian and Royal Challengers Bangalore batsman Chris Gayle during an IPL match here.
Pollard had an argument with Gayle just at the start of the third over during Mumbai's mammoth chase of a 210-run target set by RCB, forcing the onfield umpires Richard Illingworth of England and Vineet Kulkarni to intervene and warn the big West Indian.
A miffed Pollard then went on to the team dug out and pasted a sellotape on his mouth to show his displeasure over the onfield officials wrath.
The cameras too picked up Pollard's antics quickly as he constantly appeared on the giant screen, thereby bringing a wry smile on his Mumbai Indian's coaching staff that included Ricky Ponting and Robin Singh among others.