Ranji performance can open IPL doors for young players: Dravid
Ahmedabad: Former India cricket captain Rahul Dravid today said that the young players should take Ranji Trophy seriously as it can become their ticket to the Indian Premier League."When we pick players, we look a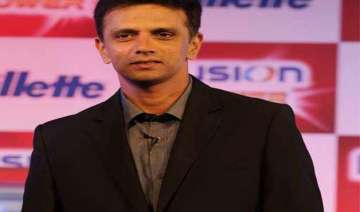 PTI
April 06, 2015 12:01 IST
Ahmedabad: Former India cricket captain Rahul Dravid today said that the young players should take Ranji Trophy seriously as it can become their ticket to the Indian Premier League.
"When we pick players, we look a lot at their Ranji Trophy performance as well. Of course there are specific T20 skills that we are looking for but we also want to see hunger, we also want to see consistency and we also want to see somebody who can deliver under pressure," Dravid said.
"My advice to young players is they also (should) take the Ranji Trophy very very seriously, because I think, without playing consistently successful domestic cricket, it is very very unlikely that you will be able to succeed coming to the IPL," he told reporters here when asked about the upcoming players giving importance to the IPL over domestic cricket.
Dravid is the mentor of the Indian Premier League team Rajasthan Royals.
The 42-year-old former batting great defended Indian team's performance in the World Cup but said it has to improve in some areas in the Test format.
"I think they are playing very well. When you come up against Australia who I think is the better team than India.
There is no harm in admitting that," said Dravid when asked whether Indian team needed another 'wall' in the World Cup semi-final match against Australia.
"In the Australian conditions, Australia was the better team. Not (only) in that match, but right through Australia played better cricket, so there is a lesson to be learnt," added Dravid.
"It (the Indian team) is a young team and lot of these players will be playing in the next World Cup, so I think there is a lot of potential going ahead and I am quite excited...but yes, in Test cricket I think there are couple of areas where they need to work," he said.