Ravindra Jadeja is getting engaged tomorrow! Here's all you need to know about his fiance
New Delhi: Indian cricket team's star player Ravindra Jadeja is taking his first step towards matrimony tomorrow. The 27-year-old all-rounder will get engaged to a 25-year-old girl Reeva in Rajkot, his hometown. The venue for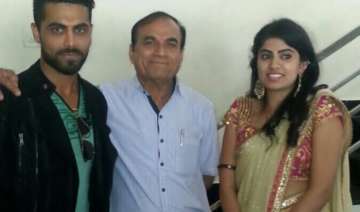 India TV News Desk
April 05, 2016 10:56 IST
New Delhi: Indian cricket team's star player Ravindra Jadeja is taking his first step towards matrimony tomorrow. The 27-year-old all-rounder will get engaged to a 25-year-old girl Reeva in Rajkot, his hometown. The venue for the engagement is his own restaurant – Jaddu's Food Field.
Jadeja, who has recently returned to India from Australia, is the newest Indian cricket team member to bid adieu to bachelorhood.
Last year, ace bowler Harbhajan Singh wed his long-time girlfriend Geeta Basra in a magnificent ceremony on October 29. A few weeks after Bhajji's wedding, Yuvraj Singh too got engaged to his actress girlfriend Hazel Keech. Pacer Mohit Sharma also got engaged in January to his girlfriend Shweta.
Reeva, Ravindra's to-be fiancée, is the daughter of local contractor Hardevsingh Solanki, who is associated with the Congress party. She has a degree in Mechanical Engineering from Rajkot's Atmiya Institute of Technology and Science. A few months ago, she came to Delhi to prepare for civil service exams.