'I will never be considered for a comeback till Waqar is coach' : Razzaq
Karachi: Pakistan out of favour allrounder Abdul Razzaq has lashed out at the national team's head coach Waqar Younis for launching a campaign against established senior players."Till Waqar is the coach I will never be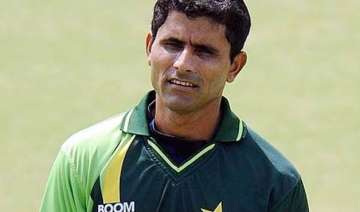 PTI
January 20, 2015 19:47 IST
Karachi: Pakistan out of favour allrounder Abdul Razzaq has lashed out at the national team's head coach Waqar Younis for launching a campaign against established senior players.
"Till Waqar is the coach I will never be considered for a comeback to the national team," Razzaq complained.
"For some reason since Waqar became head coach he had an agenda against us senior players including myself, Muhammad Yousuf and even Shahid Afridi," he added.
Razzaq revealed that when Afridi was captain of one-day and T20 squads in 2011, it was Waqar who quarrelled with him in West Indies and later submitted an adverse report about the skipper to the Pakistan Cricket Board that led to his ouster.
He also blamed the board for having no consistent policy as far as appointing key persons in the national team was concerned.
"Whether Waqar left midway through his contract in 2011 himself or was told to resign by the board, I don't understand how the cricket board reappointed him to the same position last year. That means either then or now the board made a wrong decision," he insisted.
Razzaq, 35, who has appeared in 46 Tests, 235 One-day Internationals and 32 T20 matches, said he had retired from four-day cricket not one-day or T20 cricket and was always ready to play for Pakistan.
His last Test appearance was in 2006 and his last ODI in 2011 but he was picked up for a T20 series against South Africa in 2013 before being discarded after an injury scare.
"The problem with Pakistan cricket today is that players are not being taken into confidence by the captain or management. There is too much shunting of players going on which is not good for Pakistan cricket. The truth is, since 2007 our standards have gone down while other countries are improving.