Ready to wait for realising Test dream: David Miller
New Delhi: The David Miller style of play is suited more to shorter formats but the big-hitting batsman dreams of playing Tests for South Africa to this date, having made a name for himself in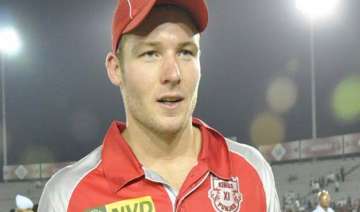 PTI
April 21, 2015 19:01 IST
New Delhi: The David Miller style of play is suited more to shorter formats but the big-hitting batsman dreams of playing Tests for South Africa to this date, having made a name for himself in five years of international cricket, complimented by a successful stint in the IPL.
If Miller eventually fulfills his 'dream' of donning whites, he will follow the path of Australian David Warner who went on to make it big in five-day cricket after being branded a T20 specialist in the early part of his career.
"It is my dream (to play Tests) and I am working really hard for that. I know it may take some time but I am prepared to wait and be patient for my chance. As I said, it is my dream to to play Test cricket for South Africa," Miller, who is an integral part of Kings XI Punjab squad in the IPL, told PTI today.
Though Miller only plays T20s and ODIs for South Africa, he is a regular for Dolphins in the four-day competition back home. His last first class knock was a 50 off 98 balls, showing he can playing the waiting game and he is not all about brutal force.
Miller had a decent run in his maiden World Cup though South Africa lost yet another tense match by going down to New Zealand in the semifinals, failing to shed the perennial chokers' tag once and for all. The dangerous left-hander, however, feels otherwise.
"The focus is very much on doing well for Kings XI Punjab in the IPL but I do feel that we played quite well as a team in the World Cup. And I don't feel the chokers tag holds anymore. I think we have shed that off long ago," asserted Miller.