Royal Challengers Bangalore unveil their new kit for IPL
Virat Kohli led Royal Challengers Bangalore (RCB) have revealed thier new jersey just ahead of two days the T20 carnival starts. The jersey  was launched by RCB captain Virat Kohli. The CEO of Huawei India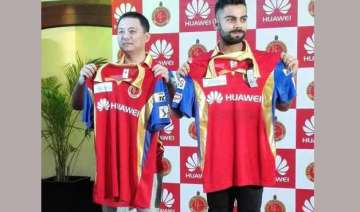 India TV News Desk
April 06, 2015 23:49 IST
Virat Kohli led Royal Challengers Bangalore (RCB) have revealed thier new jersey just ahead of two days the T20 carnival starts. The jersey  was launched by RCB captain Virat Kohli. The CEO of Huawei India Cai Liqun was also present during the occassion.Huawei will be the principal sponsors for the Kohli-led team.
Royal Challengers Bangalore have kept the main colours of red, blue and gold and just like the previous seasons. "We are extremely excited to strengthen this relationship with Royal Challengers Bangalore.
As a long-term commitment towards the game and the team we have entered into an association for 3 years starting 2015.Cai Liqun
He further added "The game of cricket in India cuts across demographic barriers and connects masses. With this association, we aim to create a strong resonance for the brand Huawei as it paves its way to become the brand of masses,"
Royal Challengers Bangalore  has a strong line up with the likes of  Virat Kohli, Chris Gayle and AB de Villiers, RCB are yet to win the competition. They begin their 2015 campaign with a match against defending champions Kolkata Knight Riders on April 11.