Sachin Tendulkar likely to make Instagram debut today
New Delhi: Indian cricket legend Sachin Tendulkar will turn 42 on Friday. It has been over 16 months now since he stepped out of cricket's arc-lights by bidding adieu to the game.Sachin played his farewell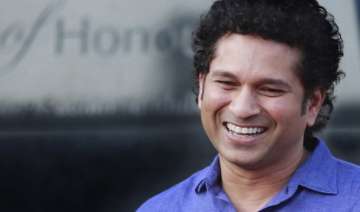 India TV Sports Desk
April 24, 2015 12:20 IST
New Delhi: Indian cricket legend Sachin Tendulkar will turn 42 on Friday. It has been over 16 months now since he stepped out of cricket's arc-lights by bidding adieu to the game.
Sachin played his farewell test at Wankhede Stadium in Mumbai.
Though the batting maestro may have ended his on-field action, he continues to work as the mentor for Mumbai Indians in Indian Premier League.
He continues to attract attention with his insights about the game that he adorned for nearly a quarter century. The fact is that even after his retirement, a short glimpse is enough for the fans to chant "Sachin....Sachin" in the stadium.
It's worth recalling that in World Cup 2015 final, when Tendulkar stepped in at MCG, the crowd went on its feet taking his name.
On Friday, Sachin is expected to make his debut on photo-video sharing website Instagram with the pictures of his 42nd birthday celebrations.
Currently Sachin have over 24 million followers on Facebook and 9 million Twitter.
Apart from mentoring Mumbai in IPL, the cricketing God is also busy in shooting for  a documentary cum feature film based on his life.
 
The film is being produced by '200 not out Production House' and is being shot at his residence and Mehboob Studios. Director James Erricson says that Sachin became emotional while showcasing  his various memorabilia including bats, jerseys, stumps etc that had been a part of his 24-year international career.
It will be released across the 2000 theatres in the country in 2016 and Tendulkar will become the first cricketer to be featured on big-screen.
He released his autobiography 'Playing It My Way' in November last year which broke all the selling records. He was also the Brand Ambassador of the ICC World Cup 2015 held in Australia and New Zealand earlier this year.
Now a co-owner of Indian Super League (ISL) football franchise Kerala Blasters, cricket's most prolific run maker and compiler of a staggering 100 international hundreds will be in Mumbai on Friday to celebrate his birthday, a day before MI's next home game against Sunrisers Hyderabad (SRH) at the Wankhede Stadium.
Saturday's match has been earmarked for Reliance Foundation's Education For All initiative and is expected to be watched by Tendulkar and 28,000 children for whom the game has been earmarked.