Sachin Tendulkar to be inducted in 'Laureus Sports Academy'
New Delhi: Indian batting maestro Sachin Tendulkar may have retired from cricket but many awards and honors still await him.He will be travelling to Shanghai on April 15, to be a part of the Laureus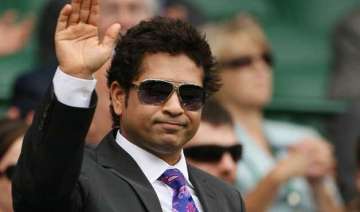 India TV Sports Desk
April 11, 2015 16:29 IST
New Delhi: Indian batting maestro Sachin Tendulkar may have retired from cricket but many awards and honors still await him.
He will be travelling to Shanghai on April 15, to be a part of the Laureus World Sports Award ceremony. This is  an annual award ceremony which is considered as Oscars of sports.
Tendulkar, who was brand ambassador of the 2015 World Cup, will also be inducted in the Laureus Sports Academy, a virtual hall of fame of the organisation. It will be Tendulkar's first-ever visit to the prestigious annual gathering of best performing sportspersons of the world including  China.  
"I'm excited to be a part of the event in Shanghai. It will be my first time at the Laureus Awards and also my first time in Shanghai," Tendulkar told Mirror. The invitation has come from Edwin Moses, the legendary American athlete, who is head of the Laureus Awards.
Tendulkar will be among about 100 top sportspersons of past and present who have confirmed participation. Among them are China's NBA star Yao Ming, Dutch football legend Ruud Gullit, Romanian gymnast great Nadia Comaneci, Romanian tennis legend Ilie Nastase, nine-time Olympic champion Mark Spitz of the US, and retired Spanish footballer Charles Puyol. Among cricketers, West Indies's Michael Holding and former Australia skipper Steve Waugh will attend the event.
Indian Batting great Tendulkar retired from cricket in 2013 after scoring a world record 15,921 runs in Test matches and 18,426 in One Day Internationals. He is the only man to score 100 centuries in international cricket.
The Laureus World Sports Awards are the only podium where past and present sportspersons from across the world are honoured under one roof. The first event was held in 2000 at Monte Carlo, with Nelson Mandela as the awards' first patron.
The winners, as voted by the Laureus World Sports Academy, consisting of 50 of the greatest sportsmen and sportswomen of all time, will be unveiled at the globally televised event staged at the world-famous Shanghai Grand Theatre.