Sehwag, Gambhir Uncertain; Karthik Called In As Cover
The Indian cricket team on Sunday got an injury scare after openers Virender Sehwag and Gautam Gambhir were rendered doubtful starters for Monday's fourth cricket one-dayer against Australia in Mohali.The BCCI said a final decision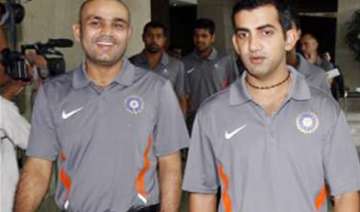 PTI
November 01, 2009 16:36 IST
The Indian cricket team on Sunday got an injury scare after openers Virender Sehwag and Gautam Gambhir were rendered doubtful starters for Monday's fourth cricket one-dayer against Australia in Mohali.
The BCCI said a final decision on whether they play on Monday would be taken on the morning of the game.
Tamil Nadu wicket-keeper batsman Dinesh Karthik has been brought in as cover for the duo.
"Dinesh Karthik will be joining the Indian team in Mohali," BCCI secretary N Srinivasan said in a statement.
"Virender Sehwag and Gautam Gambhir sustained injuries during the third match of the Hero Honda Cup 2009, played at Delhi on October 31. A final decision on their availability for the fourth match, to be played at Mohali on November 2 will be taken on the morning of the game," the statement read.
Confident after having acquired back-to-back wins, the Indian team would be gunning for a treble of triumphs to stretch their lead against a depleted Australia in the fourth cricket one-dayer in Mohali on Monday.
While Sehwag was hit on the foot by a Peter Siddle yorker last night, Gambhir was struck by a Ricky Ponting pull while fielding.
But India's injury worries pale when compared to the blows the Aussies have taken. They landed in India a depleted side and things have only got worse for them. PTI