Sehwag Says Aussie bowlers Playing With Our Patience
Adelaide, Jan 23: He has a reputation of treating opposition bowlers with disdain but India's stand-in skipper and dashing opener Virender Sehwag today said the current Australian attack is the best he has faced as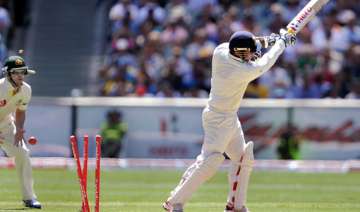 PTI
January 23, 2012 13:07 IST
Adelaide, Jan 23: He has a reputation of treating opposition bowlers with disdain but India's stand-in skipper and dashing opener Virender Sehwag today said the current Australian attack is the best he has faced as it has tested his patience like none before.

Sehwag, who is India's captain for the fourth and final Test starting here tomorrow after Mahendra Singh Dhoni was banned for the team's slow over-rate, has endured a poor run in the series which his side has lost 0-3 already.

"This is the best bowling attack I have seen, especially Australia. They are not giving easy balls to hit boundaries, they are playing with your patience," conceded Sehwag.

Sehwag has scored just 118 runs at 19.67 with one fifty from the series and he is still searching for those boundary-balls from the Australians.

"I think they are bowling in good areas. They are not giving easy balls to hit boundaries. Generally, when I played in the past, I will get a couple of balls in early overs to hit boundaries but against this attack, I hardly get balls to hit," he said.

Peter Siddle (17 at 19.58) and Ben Hilfenhaus (23 at 16.00) have invariably got the better of Sehwag in the series and the Indian opener is now inclined to rely on patience to get himself back in the groove.

"I think I have to show some patience. If I show patience, I will get some balls to hit for boundaries. It's a challenge, it's a great bowling attack and everyone is looking forward to do well against them.

"I am looking forward to do well for whenever you do well against Australia, everyone praises and appreciates your performance," said Sehwag.

As an opener, Sehwag, along with his partner Gautam Gambhir, hasn't given India any start better than 24 in this series.