It's been a special summer for me: Smith
Sydney: The success against India this summer has been outstanding from a team and individual point of view, said Australian skipper Steve Smith, who became only the second batsman to score four successive hundreds in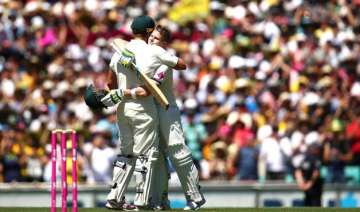 PTI
January 08, 2015 5:06 IST
Sydney: The success against India this summer has been outstanding from a team and individual point of view, said Australian skipper Steve Smith, who became only the second batsman to score four successive hundreds in a four-Test series here Wednesday.
Smith scored 117 runs -- his fourth Test hundred of the series -- to join South Africa's Jacques Kallis as the only batsman to score four successive hundreds in a four-Test series.
"It's been a pretty special summer for me personally obviously with some of the results that I have got. I always look at the team first and I think that the success the team over the last little bit has had has been outstanding and we are in another good position in this Test match," said Smith.
"It was another special moment, to get a hundred at the SCG, home ground for me and my favourite place to play."
Smith also became the second highest Australian run-scorer in a four-Test series. He fell short by 9 runs of the highest score of 706 runs held by Ricky Ponting, scored against India in 2003-04.
There was another record registered when Joe Burns reached his maiden Test fifty as it was the first time that Australia had the top-six batsmen all getting half-centuries in the same innings. As such, India became the team to allow four opposition teams this feat.
"The whole top six got above fifty which I don't think has ever happened before. That's outstanding for us. Before this Test match I said to the boys I wanted the batters to do the work this game. I think we've relied a lot on the tail the last couple of Test matches and I said the batters had to step up," he said.
"It helps sometimes when the bowlers are a little bit tired, we are trying to get them to come back and bowl as many spells as we can and we know we can cash in later in the day if we can.
"Yesterday was a perfect example and 0-200 was a great platform. David Warner and Chris Rogers were outstanding and set us up for the rest of the innings. For us it was just about batting time and reassessing at the lunch break. I thought Shane Watson played a terrific first innings," added Smith, who added 196 runs for the third wicket with Watson.