Spectators Smash Stumps On Umpire's Head In Mumbai
Mumbai, Apr 11: A bunch of unruly spectators on Sunday  smashed stumps on the head of  a 24-year-old umpire  Paresh Raut over a sixer controversy during a match between  New Selected XI ad Black Panthers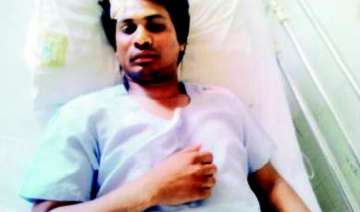 PTI
April 11, 2012 9:06 IST
Mumbai, Apr 11:
A bunch of unruly spectators on Sunday  smashed stumps on the head of  a 24-year-old umpire  Paresh Raut over a sixer controversy during a match between  New Selected XI ad Black Panthers for a local tournament in Nalla Sopara, Mumbai Mirror reported.
Raut,was thrashed by four spectators and he was punched and kicked on the ribs and stomach.
Raut,who lives in  Bhandar Lane,is a keen follower of cricket had agreed to umpire the game  at the organisers'request.
Trouble began when Raut declared a six, and was confronted by the fielding side (the Panthers).In the absence of boundary lines ,the decision to decide a six or a four was left to the umpire, but the fielders insisted it was a four.
After a brief argument, Raut reversed his decision and signalled a four, which annoyed the batsmen.
While Raut was talking to the batsmen, at least 10 spectators from the New Selected XI camp rushed on to the ground ,and accused him of favouring the fielding side.
Things turned ugly when Raut was shoved around;and in no time,he was set upon by the mob.
The police have identified four persons Kaif Dayar, Zarar Dayar, Shahzad Chaus and Mazhar Shaikh   - who allegedly pulled out the stumps and smashed Raut's head.
As he collapsed on the ground, blood gushing out of his head, the mob broke up.
Players from both the sides rushed Raut to a hospital,from where he was taken to Cardinal Garcias Hospital in Vasai, where his condition is serious.
A doctor at the hospital said Raut will have to remain in the Intensive Care Unit for a few days.
Inspector Mukund Mahajan from Nalla Sopara Police Station said, the suspects will be nabbed soon.