IPL 8: Star-studded RCB face defending champs KKR
Kolkata: Royal Challengers Bangalore may have the most star-studded batting line-up but will find themselves under tremendous pressure when they take on defending champions Kolkata Knight Riders in an IPL cricket match here Saturday.Winning two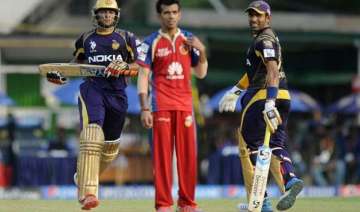 PTI
April 11, 2015 19:32 IST
Kolkata: Royal Challengers Bangalore may have the most star-studded batting line-up but will find themselves under tremendous pressure when they take on defending champions Kolkata Knight Riders in an IPL cricket match here Saturday.
Winning two titles in last three seasons and having achieved a 14-match winning streak in 2014, the Gautam Gambhir-led team has established an aura of invincibility.
Unlike Royal Challengers Bangalore, who have the best batting line-up of modern day cricket in skipper Virat Kohli, AB de Villiers, KKR are low on star power but their players complement each other so well that the house always looks in order.
Against Mumbai Indians in the tournament opener on April 8, South African pacer Morne Morkel (2/18) gave them the start and while chasing Gautam Gambhir (57), Manish Pandey (40) and Suryakumar Yadav (46 not out) contributed handsomely to for a clinical seven-wicket win with nine balls to spare.
Yadav showed how dangerous can he can be when the snubbed former Mumbai Ranji skipper hit some sensational sixes en route in his 20-ball knock to seal the 169-run chase under pressure.
Such was their domination that Rohit Sharma's 98 not out and the Kiwi explosive all-rounder Corey Anderson's 55 not out paled in comparison.
Despite having the most coveted batting line-up, Virat Kohli will surely have to do something out of the box to deny KKR a win at their home comforts of Eden Gardens.
The skipper himself is a master of modern day cricket and has earned the reputation of an aggressor and he will have AB de Villiers and the brutal giant from the Caribbean, Chris Gayle for company.
It's a treat to watch the trio together but despite having all the big players, they have failed to perform to their potential with their best being the runners-up finishes in 2009 and 2011.
Once again this season, RCB are more than firm favourites but it remains to be seen whether Kohli, who is seen as the future India captain, is able to steer the ship to win the coveted silverware.