Stuart Broad causes Twitter storm
New Delhi: England fast bowler Stuart Broad sparked a controversy by tweeting those who earn minimum wage in England should stay humble and this has resulted in a backlash.What is surprising is why Stuart waded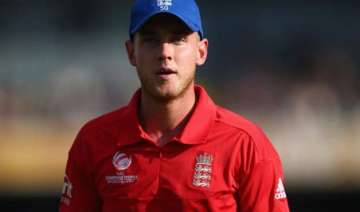 India TV Sports Desk
January 28, 2015 19:25 IST
New Delhi: England fast bowler Stuart Broad sparked a controversy by tweeting those who earn minimum wage in England should stay humble and this has resulted in a backlash.
What is surprising is why Stuart waded into a political debate while England are out in Australia for their Tri-Series and World Cup campaigns.
He said on Tuesday: 'I've heard if you earn minimum wage in England you're in the top 10% earners in the World. #stay #humble.'
Seeing the reaction Broad attempted to clarify his comments on Tuesday evening saying : 'Clarifying my earlier tweet, I merely wanted to emphasise my amazement at just how big the world is. No offence meant and sorry if any taken. The hashtag was aimed at myself.'
The earlier remark has earned the ire of many Twitter users who have accused him of hypocrisy when, as one of England's star players, he will be on a lucrative central contract.
Broad also earns money through match fees and sponsorship deals.
In an article in the Financial Times in 2011 entitled 'My first million', Broad said: 'I never look at things from a financial point of view, but if you play well the money looks after itself. Half my earnings are from the England contract and win bonuses, and half from sponsors such as Adidas who make my cricket bats.'
Broad's comment has led to widespread criticism on social media, with many users condemning his views given the amount of money he earns from professional cricket.
Conor McGrace tweeted: 'A minimum wage job wouldn't have paid for half of @stuartbroad8's annual school fees. Stay humble lads, stay humble.'
Adam Drake simply wrote: 'Can we hear the thoughts of @StuartBroad8 on immigration please?'